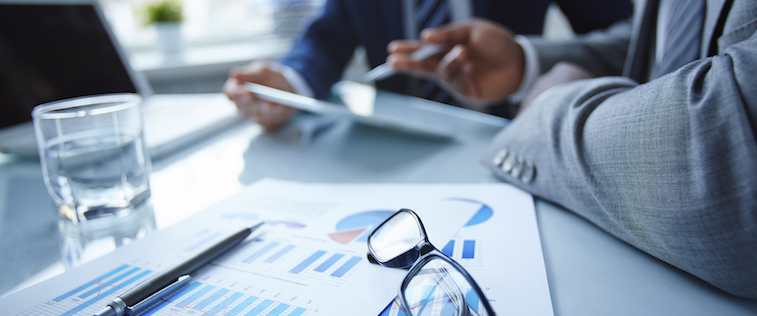 One of the toughest challenges CMOs face is getting buy-in on new programs and initiatives from the rest of the executive team -- especially from the CFO. A lot of CMOs feel like they're begging for money each month. And if the money ends up going to something that doesn't quite pan out, their budget is on the chopping block.
But it doesn't have to be that way. There are many ways CMOs can improve their relationship with their CFOs, and the best way to get started is to figure out how your CFO thinks. What do they really think about marketing? What's the best way to get buy-in on a new marketing program? How do they decide how much budget marketing gets?
Over the past few months, I've been working on a kit on how to prove the value of inbound to your executive team. In this kit, I've placed special emphasis on the CMO-CFO relationship -- which means, of course, that I've spent some quality time hashing it out with my own CFO at HubSpot, John Kinzer.
If you've ever wanted to get inside the head of a CFO, now's your chance. I sat down with John to talk about the CFO perspective on marketing -- from the approval process for an inbound marketing program to how the marketing budget is decided. Below are some excerpts from our conversation, which you can use as guidance for building a better working relationship with your own CFO.
An Interview with HubSpot CFO John Kinzer
Q: How effective do you think inbound marketing is, from your own experience?
From my own experience, I do think it's effective. I've seen it's success firsthand. For one, I personally don't respond to cold calls or anything like that. And I always try to research things before I buy anything.
Here's a great example. Last year, I bought a zipline for my three daughters. Literally, I searched the internet for "zipline" and I found this company called Zipline Gear. They had a great blog and YouTube videos that I learned a lot from. I'm not sure they were the least expensive, but they sounded like they knew what they were doing -- so I ended up buying a zipline from them. That's just a small example of how inbound marketing has worked on me.
Q: Do you think most CFOs think that marketing drives value?
To some extent, I'm sure we all do -- but we also tend to view marketing as a black hole of expenses. We're more apt to quote the classic line, "50% of my marketing is working, I just don't know which 50%." As a CFO, you're always trying to get better metrics around marketing.
Fortunately, inbound marketing can give us those metrics. When I came to HubSpot, I saw that the marketing team does an amazing job of tracking what works. They track MQLs, SQLs, and marketing CAC across all markets. Knowing these metrics makes investing in marketing far more palatable for a CFO. I can see how marketing drives leads and produces customers. I can connect the dots and see that the marketing team really is driving value. So from that standpoint, marketing doesn't seem like a black hole.
Q: CMOs often say their CFOs love PPC (Pay-Per-Click) advertising because it's predictable and measurable. But they also say it's hard to get their CFO's buy-in to reallocate dollars from PPC to inbound marketing. What are your thoughts on PPC?
At previous companies, we didn't use PPC that much because we had a clearly defined market. And, personally, I've never really clicked on PPC ads.
The way I think of PPC (and hope other CFOs would as well) is that PPC is like renting space on somebody else's site. Blogs and other content you create, on the other hand, are assets you own that have a long shelf life. I know because at HubSpot, we get leads from blog posts written four to five years ago!
I think that the concept of renting versus owning really resonates with CFOs. If you're doing inbound and building assets your company owns, you know that if you stopped doing any more blog posts, you'd still be generating leads for the foreseeable future. Whereas, once you stop funding PPC advertising, leads stop. Inbound marketing is also sort of like creating an annuity. It returns interest or leads ongoing without putting in more investment.
Q: Is it fair to say that inbound marketing has a compound interest effect?
Yes, especially because it brings in other people from social media. When that happens, new leads and markets can be discovered that we would never have encountered otherwise. A blog can be spread out all across the web and bring in referral links from all kinds of blogs, publications, and social media sites. That's an amazing potential impact and a cost-effective way to attract qualified leads.
Q: In what ways do CFOs participate in marketing planning?
From a planning process, we do both bottom-up and top-down analysis. From the top-down perspective, we look at what comparable companies are spending on sales and marketing.
From a bottom-up perspective, we look at metrics such as CAC (Customer Acquisition Cost), which we separate between sales and marketing. We then compare that to the LTV (Lifetime Value of a customer). The higher the LTV to CAC ratio, the better return we're getting on our investment.
When we start planning, as long as we can keep marketing CAC in a range that leads to these returns, then we're comfortable. We're especially lucky to have a financially savvy CMO like you, who's very bottom-line driven. So, as long as you stay in that range, we know you're making good one-off decisions and we don't need to micromanage how you're spending that money.
We also look at MQLs and SQLs. As long as our Senior VP of Global Sales, Hunter Madeley, is getting enough leads for his team to hit their sales targets, we know the process is working and the company is doing well. In summary, I look at high-level metrics and then let you (the CMO) manage how you spend the budget.
Q: How do you decide what budget to approve for marketing?
First of all, we come up with sales goals and customers necessary to hit our growth goals. We then back into the marketing budget necessary to drive those customers using the historical CAC. It's then up to you as the CMO to put together a budget that fits into that framework and we iterate from there.
Q: If you were at another company and the CMO came to you wanting to invest in a new program focused on inbound, how would you go about approving that?
I'd say, "You have a budget you need to stay within and you know what leads you need to generate, so if you can fit it within your marketing budget, I trust you will make the right decision. If you can't, and you're asking for more money, then we have to look at all the new things we want to fund. We'll have to analyze what will produce the highest ROI for monies spent. If you can make a good business case, and we can afford, you'll get it."
The good news is at HubSpot, we know from the MIT Sloan MBA Study that after a year, customers see on average over 3x more visitors and 4.77x more leads. And 72% of customers see an increase in revenue within one year.
Q: Are other CFOs starting to pay more attention to marketing ROI?
Yes, more so every day. The problem is that in the past you couldn't do it with marketing in a non-digital world. The digital world makes it much easier to measure and CFOs are becoming more attuned to it.