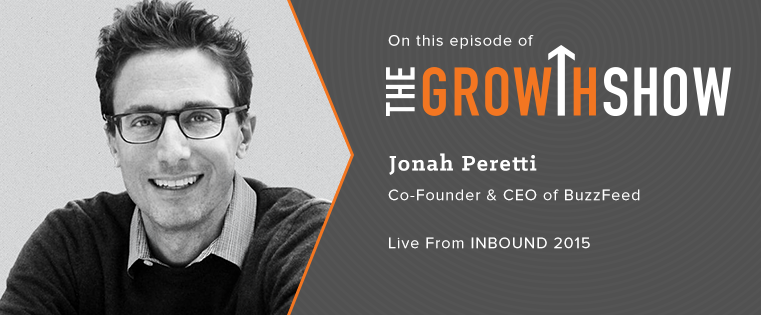 When Jonah Peretti was in college, he didn't think he'd be founding and growing two of the biggest internet media empires in the world. He was an environmental studies major who took computer classes on the side -- but he was always curious about why ideas spread.
Ten years after he graduated college, this same curiosity spurred him to build The Huffington Post and BuzzFeed, which are now regarded as some of the most popular sites on the web.
How'd he achieve such success in an industry that's in a decline? In this special, live-recorded episode of The Growth Show, Jonah Peretti joins us to talk about the strategies and technology powering BuzzFeed's insane growth. Highlights include:
Why Jonah wanted to start BuzzFeed (1:15)
How BuzzFeed started covering more than just cat GIFs (2:00)
What the team structure of BuzzFeed is like (3:07)
How big BuzzFeed's audience really is (4:06)
Specific reasons why BuzzFeed's been able to grow so big and fast (4:45)
The path of viral content (6:48)
Why Twitter still powers virality (7:41)
The importance of discovering new networks (9:05)
His favorite BuzzFeed article of all time (9:50)
Click the play button below to listen to this episode in your browser, or subscribe on iTunes to download episodes on your mobile device:
This is the second in a series of podcast interviews we recorded live at INBOUND 2015. Stay tuned for next week's episode with Nasty Gal founder Sophia Amoruso, and check out the latest recaps of The Growth Show episodes by clicking here.