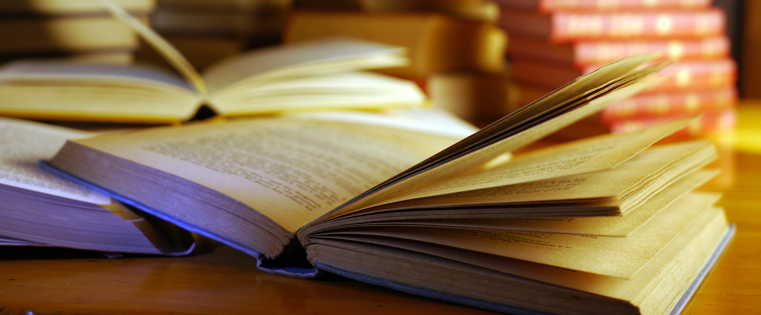 Conducting research is an essential part of writing quality blog content. To be a credible industry expert, you need facts, stats, figures, and examples at your disposal -- all external validation that shows you know your stuff.
But doing research can be very time consuming if you're not sure what you should be looking for and how to look for it.
In this post I will take you through a four-step process for researching your blog posts. This process will help you validate your blog ideas, fill your posts with interesting and relevant content, and increase the chance your readers will engage with you. Once you fine-tune this process, it shouldn't take longer than an hour to do research for each blog post.
Let's dive right in.
Step 1: Set up a system to capture notes.
During my research for this post, I noticed a common gap in some of the content available on the topic. Not many people had spoken about the value of creating a system to capture your research. For me, this is perhaps the most important step because it gives structure to the research process.
When creating your note taking system, some information you'll want to consider capturing includes:
The link to the content
The title of the content
The exact keyword phrase(s) you plan on using and any interesting points you can expand on later
Related keywords
Amount of engagement, such as social shares or comments
Backlinks from other sites to the content
You may like to capture all of these factors, or alternatively you can choose the ones that best suit you. Everyone will have his or her own way of capturing this information, but an Excel Spreadsheet is a good place to start. For something specifically designed for note capture you may like to try out Evernote.
Step 2: Pick your keywords.
Determining your keywords is vital to the success of your blog post research. Ideally you want to choose a keyword group to write your blog post about, and then two or three other keyword phrases you will include in the body of the blog. These words become your guiding light throughout this research process. Essentially everything you find from this point on will be by searching for these keywords in a range of different places.
If you have already done some keyword research and mapped out the groups you will target, here are a couple of tactics for finding long-tail phrases to include in the body of your content.
HubSpot Keyword Tool
If you are a HubSpot customer, you can use the Keyword Tool to save you some time and discover keywords based on a number of different factors. The screenshot shows you where to find this feature on your dashboard.
If you haven't taken the plunge and become a HubSpot customer just yet, below are a couple of other ways to find your long-tail keywords.
KWFinder.com is a helpful online tool that allows you to search any keyword topic and discover loads of long-tail phrases that are associated to it. You will see in the screenshot below I have searched 'Inbound Marketing.' The long-tail keywords are on the left of the screen and on the right is the SERP (Search Engine Results Page), which lets you know what content is currently ranking for your keyword. This is valuable information when you are thinking about validating your idea in the next step of the research process.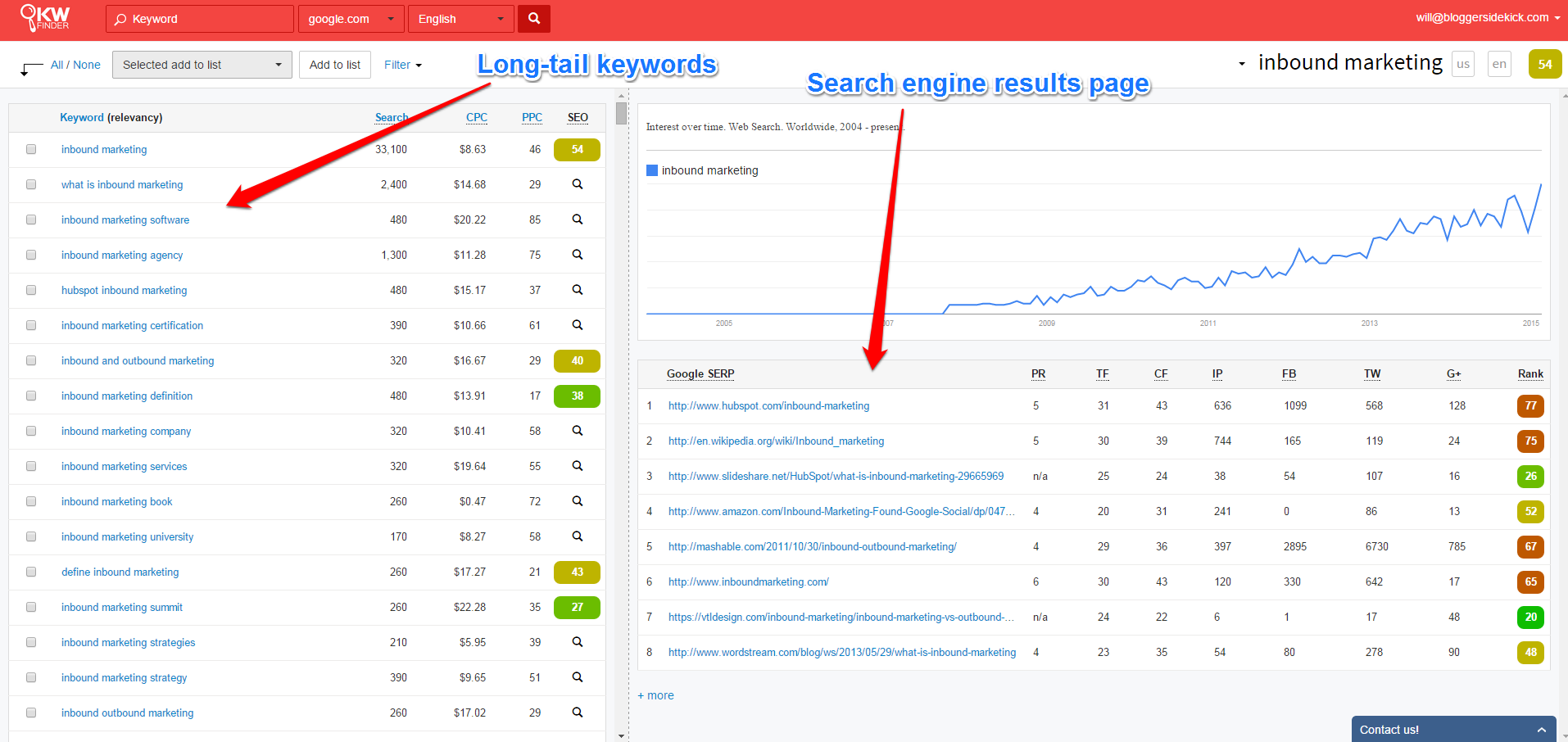 Google Related Search
The screenshot below shows a Google search for the term 'Inbound Marketing.' At the bottom of page one of this search there are related search terms. These are the phrases that people have been typing into Google that relate to your search. If you include some of these terms within the body of your blog content you will start to attract more organic traffic based on these keywords. Note that the related search terms are different to the long-tail phrases suggested by KWFinder.com, so it is worth using both tactics.
Important note: While long-tail keywords are an effective way to attract more organic traffic to your site, if you use them in the wrong way you may get penalized. My advice is to use them where it makes sense and adds depth to your blog articles. Don't stuff them in anywhere you can.
If you haven't earmarked keyword groups to target read this post for further guidance.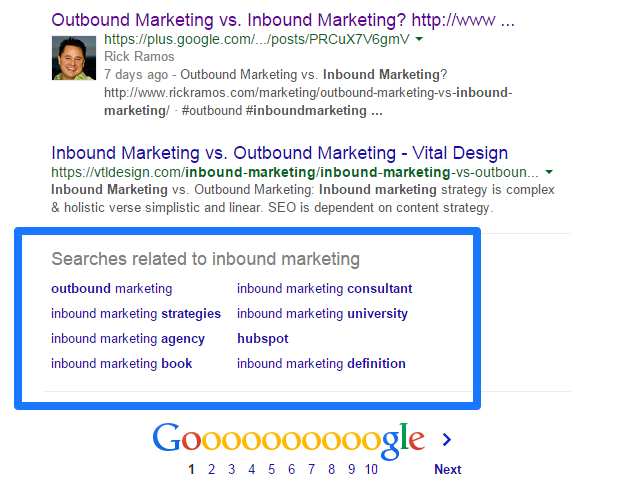 Step 3: Validate Your Idea.
This step of the process is designed to validate your idea so you can be sure that people actually care about what you are saying. This validation has a direct influence on the likelihood that people will engage with your content.
Validating your idea answers the question: Is your blog idea interesting to your readers?
Search for the below content using the keywords you selected in Step 2, remembering to record the information you selected in Step 1 of the research process. You should be looking for:
1) Competitors' Blogs on the Same Topic
Have your competitors already written blogs on the same topic? If so, how could you improve on the content they have written?
Tool: SEMRush is a helpful tool for analyzing your competitors.
2) Popular Content Created by Others
What other content has been published on this topic before? Have people engaged with it? Who has linked back to this content?
Tool: BuzzSumo is a perfect fit for this type of research. You can enter any URL for a piece of content into the search function and discover how many people have shared it, as well as who has linked to it.
3) Relevant Conversations
Are your readers or customers talking about this topic? What specific challenges are they articulating?
Tools: To find this information, you may like to use Twitter advanced search or Google+ Communities. But the real value often comes from industry forums -- they are a gold mine of hopes, dreams, and challenges.
Bonus tip: As you are documenting all of this information, jot down the exact language your potential readers are using. Use similar language when writing your content.
If there are no conversations or content about your chosen blog topic, it may not be a great idea. If this is the case I would suggest moving back to Step 2 and re-assessing what other keywords you may like to target.
Before moving onto Step 4, it is important you document the best bits of the articles you just found in your system. You will use this information later to write your blog article.
Step 4: Mine for Content.
Step 3 was all about validating your blog idea. If you have made it this far in the research process, you have a proven idea and the specific keywords you want to rank for. No doubt you have also captured a bunch of interesting content along the way that will shape your understanding of the topic.
Now it is time to make your blog post stand out from other posts on the same topic. The best way to do this is to add exponentially more value to your reader than anyone else has previously. You might want to write longer posts, with more detail and a diverse range of content types within the post.
Let's have a look at some of the types of content you may like to include and where to find them:
Images and infographics: Google image search, Pinterest, Instagram, Infographic directories
Podcasts and webinars: Search in podcast and webinar directories, or use Google search
Video: YouTube, Vimeo, 99U, TED talks
Presentations: SlideShare and Prezi
Stats and quotes: Google search, or Factbrowser
Tools, widgets and resource downloads: Google search, Wordpress plugin directory, Google or Apple iTunes app store
Bonus tip: To find specific types of content, try and type your keyword phrase into a search engine followed by the name of the content. For example; 'inbound marketing + stats,' or 'inbound marketing + template'. If you can't find any of these types of content, you might want to create them yourself. Here are some templates to help with that.
Conclusion
If quality blog content is the goal, then effective research is the process to achieve that goal. By undertaking this process (or one you have come up with yourself) you take the guesswork out of blogging.
Too many of us fail to validate our ideas -- it's time we found out exactly what our readers and customers are struggling with, and created content to solve those challenges.
If you enjoyed this post, here's a free PDF download of the process.