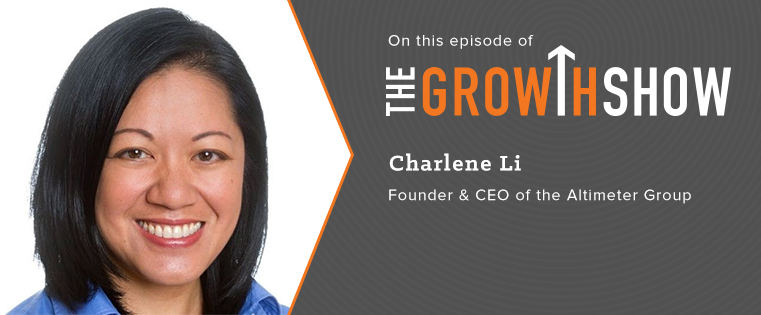 When you first start out in your career, growth seems straightforward. You do great work, and then you get promoted to the next level. Simple as that.
But as you start to progress up the ladder, figuring out how to get to the next level in your career becomes more complicated.
If you're an ambitious leader looking to progress to the next stage, what should you be doing?
Charlene Li, Founder & CEO of the Altimeter Group, has literally written books on the subject. And this week on The Growth Show, Charlene joins us to chat about influence, leadership, and building high-growth companies in our digital, hyper-connected world. Some episode highlights include:
The one similarity among high-growth companies

The key to avoiding "groupthink" at your company

Why every single job candidate at Altimeter Group takes a practical exam

How leaders need to adapt when they hire empowered employees

The secrets to growing in your career over time

Click the play button below to listen to this episode in your browser, or subscribe on iTunes to download episodes directly to your phone:
Check out the latest recaps of The Growth Show episodes by clicking here.