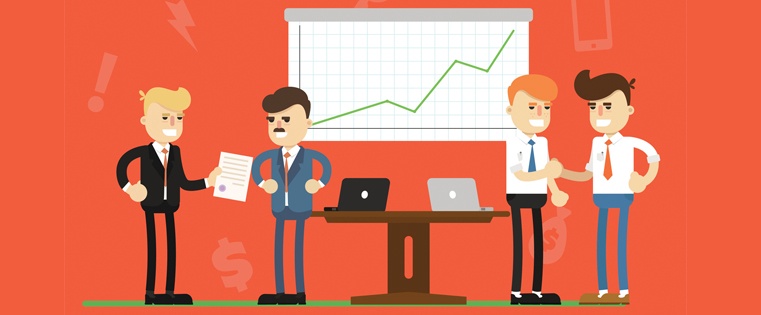 Over the last four years I've helped thousands of businesses create marketing guilds so they could generate more leads and customers, share marketing costs, and ultimately dominate their target markets.
You might ask, what the heck is a marketing guild?
Unlike an industrial guild where businesses creating similar products or services work together, a marketing guild is a group of businesses that sell different products to the same people.
Typically a marketing guild is formed by one or two marketers who invite marketers at other businesses with similar customers to join them. For example a mortgage broker, a custom home builder, and a real estate agent could work together to create a marketing guild focused on homeowners in their region.
Some businesses may belong to more than one marketing guild. This is common if you sell to distinctly different customer segments, for example an HVAC company that offers both commercial and residential service.
You probably already have a few marketing partners for your business. Maybe you wrote a guest blog post or allowed someone to write for your blog. You might have a partners page on your website, or you might feature a friendly company in your monthly email newsletter.
Whether you have existing partners or not, building a marketing guild for your industry will make everything you do in marketing exponentially more powerful.
Power Up With a Guild
A marketing guild lets you land better marketing partners, reach more of your target market, focus more tightly on your best prospects, create more effective campaigns, get more done, and have a little fun at the same time.
Unfortunately, your business isn't the perfect marketing partner to every other business who sells to your target market.
For instance, mortgage brokers get most of their leads from real estate agents. Real estate agents don't get most of their leads from mortgage brokers.
Imagine being a mortgage broker trying to convince a popular real estate agent to become your marketing partner. What's in it for them?
But when the mortgage broker first creates a marketing guild comprised of her mortgage business plus a local home inspector, a surveyor, a divorce attorney, a closing attorney, an appraiser, a personal financial planner, a residential insurance agent, and a custom home builder that same real estate agent can't wait to join the group.
Flex Your Reach
Every marketer struggles to reach all the best prospects in her market. At a minimum, it's not cost effective. At worst it's just not possible.
But every successful marketer is able to build relationships with her own little slice of a target market. In a marketing guild, each business makes their little slice available to their partners in exchange for access to the total pie.
Focus on Your Best Prospects
Every time a person interacts with a business, part of a story is told.
People who visit a mortgage broker's website probably own a house, or soon will.
People reading online about rafting trips near Asheville, North Carolina are probably about to book a vacation there.
People who visit a wedding planner's website are probably about to get married.
A marketing guild lets you test assumptions like these by introducing your company to prospects who have recently interacted with other businesses in the group.
Follow the Leader
Someone selling to your target customer has already figured out the perfect way to find them, talk to them, and inspire them to take action.
Ask your partners what they've learned and share your areas of success. Several heads is always better than one.
Fast-forward to the Finish
I've found there's nothing better than a little peer pressure to get busy partners to deliver their commitments on time. In the fast-paced world of digital marketing it's easy to overcommit and the natural instinct for partners is to take care of themselves first when they're behind schedule.
Ever had to nudge a partner to publish a guest blog post you delivered last month?
With a marketing guild, herd mentality keeps people on track. A few partners will hit their deadlines to the group, motivating those playing catch-up to make their contributions too.
Momentum is your friend.
Wait, Did He Say Fun?
Marketing is supposed to be fun, after all. Isn't it? And nothing's more fun than interacting with other marketers who face challenges like yours every day.
Digital marketing doesn't always have to be done online. If you've built a local marketing guild among businesses in your community, consider ways to get the group together in real life.
Or, if your group is geographically diverse, set up a Google Group for open communication, or get on a Hangout and get everyone acquainted.
Consider engaging your partners in creative ways, like letting them submit subject lines for an email marketing test. Offer a silly prize to the person whose subject line gets the best open rate.
Marketing Guilds in Action
Marketing guilds work best when members agree upon a calendar of shared promotions in advance. In the next section I'll talk more about how those agreements can be made.
That said, common activities among marketing guild members include guest blogging, shared social media promotions, writing and promoting group articles, and advertising to pooled remarketing audiences using a tool like BoostSuite.
Now, let's look at two examples of marketing guilds in action.
The Regional Homeowners Marketing Guild
A regional homeowners marketing guild is comprised of businesses who sell products or services to homeowners in a specific area.
The group consists of one business from each of the following industries:
Mortgage brokers
Real estate agents
Home inspectors
Surveyors
Divorce attorneys
Closing attorneys
Appraisers
Personal financial planners
Residential insurance agents
Custom home builders
Although home improvement vendors like plumbers, lawn maintenance, appliance repair, and window washers exist too, this group is focused on higher dollar service providers who work more closely around home purchases.
A separate group focused on home improvement and repair vendors who target homeowners could be formed among those service providers too.
The Regional Growing Companies Marketing Guild
A regional growing companies marketing guild organizes businesses who sell products or services to growing businesses in a specific area.
The group consists of one business from each of the following industries:
Corporate benefits and insurance
Commercial real estate brokers
Recruiters/staffing companies
Accountants
Attorneys
Software development firms
Branding/PR firms
Financial advisors
Executive coaching services
Leadership development seminar providers
Fractional CFO services
Venture capital firms
Community banks
Growing companies need different things than stagnating companies. The industries represented here focus on services most often consumed by businesses on the rise.
5 Steps to Creating A Marketing Guild for Your Industry
Creating the marketing guild you need to grow your business isn't actually that tough, but in most cases you'll need to create the group yourself.
Creating a marketing guild takes a bit of brainstorming, a few contacts from your Rolodex, and just a smidge of cat herding (that part comes last).
The first four steps can be done in less than an hour, on paper or digitally. You don't need to involve your future partners until the last step "assemble the group."
From experience I've also learned that after you confirm the first three members, the rest of the group drops in place pretty quickly.
Follow these five steps to create your marketing guild.
1) Start With Your Target Customer
This one's usually the easiest.
Answer this question. To whom do you typically sell your products and services? If you've already developed marketing personas for your business, start there.
Give your target customers a name. Like 'homeowners' or 'growing companies' from the examples I shared above.
2) Name Your Marketing Guild
Will your marketing guild focus on customers in a specific region? If so, start the group name with the name of that region. This makes it clear to prospective partners that you're thinking locally where there best customers are too.
Now, after the region name (if applicable) add your target customer's name from the previous step.
Region Name + Target Customer
Tri-State + Homeowners
You'll end up with something like the Tri-State Homeowners Marketing Guild, or the Research Triangle Growing Companies Marketing Guild.
Why's the name so important? It's all about the partners you'll add next.
A clear name focuses the group on a well known target customer and a specific region (if applicable) so your partners will instantly know this is the group for them.
3) Brainstorm a List of Partner Industries
This is probably the most important step of the entire process. Building the correct industry list means your partners can provide you the prospective customers you need, and every business you're recruiting will benefit from the group as well.
Shoot for at least 10 industries in your list.
What usually happens is you'll forget one or two now, then your first invitees will suggest them later. Then you'll find an industry or two where it's hard to convince good businesses to join. In result, you'll still end up with around 10 total businesses when you're done.
To build your list, think again about your target customer. Ask yourself these questions.
What else do they buy?
What could they buy that indicates they will soon need your products or services?
What else do they need soon after they buy from you?
Next, think about your business. In the last six months,
Have you referred a sales lead to any other business?
Has a business referred a sales lead to you?
Finally, consider your existing relationships.
Do you have existing sales or marketing partners?
Do you have guest blogging relationships?
Do you have people who frequently promote your content in social media?
Resist the urge to include trade groups in your list. Your best marketing partners will be from other industries that commonly have customers in your target market. You're not likely to find great marketing partners among businesses too similar to yours, and they can be difficult to work. For this exercise, avoid them entirely.
Review your industry list and make sure each one has prospective customers for your business. Then double check that each other industry has at least two industries who have prospective customers for them too.
4) Select One Business in Each Industry
Go through your industry list and recommend one business to represent each industry in your marketing guild.
If you have multiple businesses you're considering for any industry, filter your choices down to just one by looking for the following properties of a great marketing guild partner:
You already have strong rapport with them.
They have the required access and control to be a good partner.

They control their website.
They control their email newsletter.
They control their social media accounts.
They can make marketing and advertising decisions on their own.

Their customers are in the same location as your customers.
They can credibly invite other partners to the group.
If you're a local business, watch out for franchisees and branch offices of larger companies. These types of businesses may not be able to support your local marketing activities, especially if their marketing decisions are made at the national or international level.
Avoid the tendency to partner with global businesses if you only sell in one of their regions. It's unlikely you'll be a good partner to them and most of their customer relationships will be outside your region.
If you can't come up with a business for every industry in your list, that's fine. Leave those spots open. In the next step you can appeal to your early members to help fill in the blanks.
It's actually a great way to engage the first members of your group. The whole thing feels more like their idea if they're extended the privilege of recommending one or two businesses themselves.
5) Assemble the Group
Now, let's put your brilliant plan into action.
You have a clearly defined target customer, and a region if necessary. They're both proudly represented in your marketing guild name. You have a list of industries and most of them have a business matched to them.
It's time to assemble your marketing guild.
Email the two or three businesses you think are most likely to join the group. Get their confirmation before emailing the rest.
In each email remind prospective partners who you are, what your business does, and who you sell to. Tell your partners why you're creating a marketing guild and share the list of industries you plan to include.
Mention one or two other businesses who have already confirmed their spots in the marketing guild and don't forget to tell the prospective partner that you've recommended their business to fill the single spot available in the group for their industry.
I always recommend closing the email with an invitation to the first meeting of the group. If you're inviting partners outside your area, I recommend you meet online. Make sure to include call-in details and a proposed date and time in your invitation.
Your New Marketing Guild in Action
Congratulations, you're now the proud founder of your very own marketing guild. Try an agenda like this when your group first gets together:
Introduce the marketing guild and explain its purpose
Each marketer explains their business and their role
Each marketer shares one idea for how they might help other businesses in the group
Brainstorm a list of shared marketing activities the group can conduct together
Commit to just one or two marketing activities for the upcoming quarter
Pick a group leader who will schedule the next meeting and remind everyone of project deadlines as they approach
Like any group, setting expectations upfront is key. Try not to overcommit in all the excitement. Set a few goals for the first quarter, get buy-in from the members, and see how it goes.
If done correctly, your marketing guild will become a key part of your overall marketing strategy. Considering the minimal effort required, it's an extremely effective way to generate more leads and customers, share marketing costs, and ultimately dominate your target market.
Want to start partnering with like-minded business to build your own marketing guild? Subscribe to the BoostSuite blog and learn more about the free BoostSuite advertising platform.