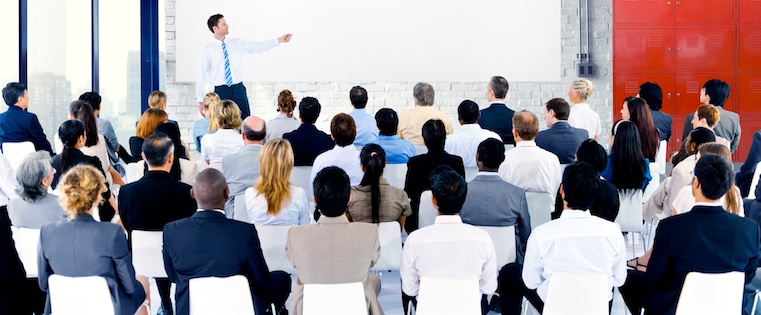 I have a lot of folks ask me if our INBOUND event (coming up Sept 8-11th) is valuable for them and their teams to attend.
(SPOILER ALERT: It's insanely valuable.)
And ever since I started managing marketing teams, I've had people ask me if they could attend conferences and events. Some VPs and CMOs I know evaluate each event individually and make a judgment call each time they are asked by someone on their team. However, I have always felt as though it's better to let people on your team decide for themselves.
And if and when they do decide to attend, I simply ask them to do a few things to ensure that they get the most out of it. This approach has proven to work out great for many members of my team ... and it just might work for yours.
With that said, below you'll find the six most important things I ask my team to cover every time they attend an event.
Not managing a team of your own? No worries. You can use these same tips to convince your boss to sign off on your trip to #INBOUND15.
6 Tips for Making Sure Your Team Is Getting the Most Out of a Conference or Event
1) Create a plan.
Ask your employee to create a plan of the sessions they will attend, what they are looking to learn at those sessions each day, and five speakers they want to meet in person (and what they want to talk to them about).
This shows they have researched the agenda and have thought about the conference content in detail. This can be important for events at resorts or especially fun cities to visit because people may be focused more on the trip than the conference.
Once you approve the trip, they should reach out to the five speakers they want to meet and try to set up times to meet with them. A few of my top picks of people to see at INBOUND are Daniel Pink, Scott Stratten, Ann Handley, and Michael King -- and we created some recommended agendas for different types of attendees.
2) Write a report.
I love asking people who attend events to write up a summary of what they learned in each session, some interesting observations from talking to people at the event, the most interesting people they met, and the key takeaways overall from the trip. You can also ask them to present this summary at your next team meeting, which is great for developing presentation skills on your team.
If anyone from your team attends INBOUND, I would expect them to have some interesting ideas about both your overall marketing and sales strategy, as well as tactical tips and hacks that will help improve the day-to-day things they do.
3) Implement a change.
A lot of people leave events energized and ready to conquer the world, but then get back to the office and fall into the old routine.
One way to combat this is to ask people who attend a conference to pick one new idea from the conference to implement when they get back, and hold them to doing that in the 90 days after the conference. This helps make sure the conference trip ended up making a positive change in how your team works.
4) Recruit new hires.
As a team leader you probably know that hiring is the hardest and most important thing you do.
Conferences are a great place to network and meet people you might want to hire. Personally, I'm always thinking about hiring opportunities every time I meet someone -- especially at conferences.
You can ask people from your team to come back with a list of the best people they met at the conference and then decide if you should try to recruit and interview them.
5) Hold customer, prospect, and partner meetings.
Most companies have customers, prospects, or partners in many different locations. Use the trip to a conference as an opportunity to have folks from your team meet with them the day before or the day after the conference.
Meeting customers is always a good idea -- especially when the cost is just one more night of hotel.
6) Create content about what you learned.
Most events will have speakers that can inspire content you can use in your own marketing.
At INBOUND, you'll find not only content about marketing and sales, but also leadership, communication, management, and more. In other words, for pretty much anyone you sell to, there's a session you can attend that will teach you something you can apply to a valuable piece of content.
To ensure that your team makes the most out of each session, ask them to use the conference as an opportunity to create one or two pieces of new content to use in your marketing.
Do you have any other ideas to help your team get the most out of attending a conference? What about ideas on how to convince your boss to let you register for INBOUND (or another event)? Let us know in the comment section below.