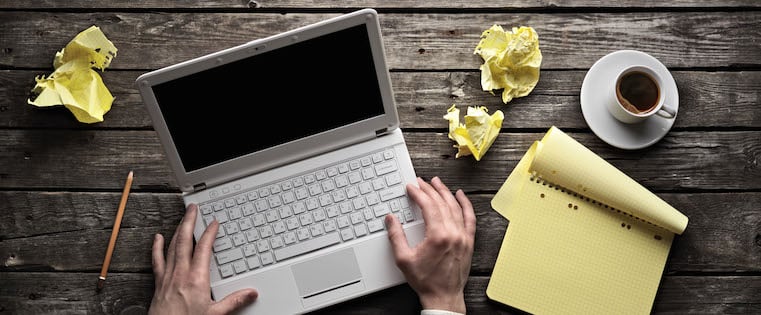 As part of my work, I speak to a lot of nonprofit groups. Afterward, people come up and tell me they've read and enjoy my blog. I appreciate the compliment, but I ask them all the same question: "Have you ever thought of starting your own blog?"
People have a lot of reasons why they don't blog.
"I don't have the time."
"I don't like to write."
"Blogging is not part of my job description."
These are all good reasons. Heck, I choose not to do things every day because of time or because they're not part of my business goals. I get it.
But what these nonprofit professionals may not realize is the tremendous boom blogging can be for their careers. If they only knew how blogging could improve and impact their careers! If they did they would find the time, explore the possibilities and make blogging a priority.
Today, I have my work cutout for me!
Here are five ways blogging can grow your nonprofit career - and might just lead to another exciting career!
Blogging is the Second Most Important Job in Your Organization
The first thing you should get out of your head is that blogging is only about writing. Sure, bloggers write posts, but they also work with images, create infographics, record videos and podcasts, and produce plenty of other content. The modern-day nonprofit blogger is a multi-talented creator and publisher. They're also one of the most important and valuable members of a team. That's because after executing its mission, the most important thing a nonprofit can do is communicate that impact. And I'm not talking about mailing the annual print newsletter. That impact needs to be communicated powerfully, regularly and digitally by a talented blogger/content professional.
You're probably shocked that fundraising ranks neither first nor second. That's because impact and content drive fundraising, and not vice versa.
Are you looking for a creative, interesting job that is only second in importance to performing the direct work of your organization? Start blogging.
Blogging Makes You a Go-To Person
I notice that if I really want to understand something, I have to write about it. Blogging helps me clarify my thinking, organize my thoughts, and makes me more knowledgeable about an issue when I do have to talk about it. I become an expert. You will too, and you'll be the person in your organization that people seek out to understand an issue that only you have taken the time to truly understand.
Blogging Makes You an Online Expert
Nonprofits are still struggling to figure out the online and social media space. A staff member that can create compelling content and distribute and promote it on social networks is a person that nonprofits will hire and work to retain in 2015 and beyond.
When you blog you just don't learn how to write. You learn how to write better headlines, optimize your text for search engines, and couple images with text that better communicate your message. When done right, blogging encompasses a whole set of useful skills that are valuable for your career today and for years to come.
I love the example of Danielle Brigida, an online digital pro who recently completed an 8-year stint at the National Wildlife Foundation. During her time with NWF, she became a nationally recognized expert on digital communications. Danielle recently made the jump to a government position with the U.S. Fish and Wildlife Service. Her online expertise is making a difference offline for America's wildlife and conservation efforts. She's just the type of person nonprofits will need in the years ahead to stay relevant, competitive, and funded!
Blogging Helps Build Connections
Interviewing people for your blog will help you network and make connections that will serve you well in your job and career. As a cause marketing blogger, I connect with people in my industry by blogging about them or interviewing them on a bi-monthly podcast. It was my blogging that first brought me to the attention of David Hessekiel, the founder of Cause Marketing Forum. David's been an important advocate for my work, and I speak annually at his Cause Marketing Forum Conference in Chicago.
I would never have met David without blogging! And CMF has grown because of David's own blogging and podcast efforts.
Blogging Prepares You for Your Next Big Thing
Do you want to be the person that recruiters call? Creating compelling content that engages donors will be more important to nonprofits than finding fundraisers to make cold calls to uninterested prospects. Blogging - or lead generation - is a growth field!
Do you want to write a book? Blogging is a great place to practice your writing and to test content for publishers. I know this firsthand. Blogging helped me land me my first book deal with Wiley Publishing, and gave me the confidence, skills and material to publish two more! You may not think you can write a book, but I bet you can blog 300 to 500 words a day. In time, you'll have your book.
Do you want to start your own nonprofit? Successful nonprofits need to be impact and communication focused. It won't be enough to make a difference, you'll need to show people how you're making a difference through blogging. Your experience will give you a huge edge over well meaning but unprepared nonprofits.
Do you want to be a consultant? These days you can't be a consultant and thought leader without a blog. A well written and interesting blog heightens your reputation and establishes you as a leader in your area of expertise. Thanks to his blog, John Haydon made the leap from the corporate world to the consulting world as a Facebook marketing expert for nonprofits. Today, John is a leader in digital marketing solutions for nonprofits and the author of Facebook Marketing for Dummies.
Are you convinced that blogging can build your nonprofit career? Good!
Three Ways to Get Started:
1) If You Can't Blog for Your Nonprofit, Start a Personal Blog.
Focus on a cause-related topic that you care about. Are you passionate about the work your nonprofit does to feed the hungry? Write about that. Are you interested in how nonprofits can use Facebook for storytelling? You found your topic! The key is to get started. You'll find your voice, niche, and audience as you blog.
2) Balance Creation With Promotion.
It's having a blog. What's not fun is a blog with no readers. That's why you should devote part of your time to promoting your content via email and social media, and tracking your readership via Google Analytics. Knowing that you have readers will keep you going after the initial excitement wears off. Blogging is like investing. It requires a long term commitment, but the payoff is worth it.
3) Take Advantage of Free Resources.
As a professional blogger, Hubspot is a key source of advice and education for me. Their marketing library has guides on everything from blogging to email marketing to social media. I've read them all! Daily, you'll find useful articles on their sales and marketing blogs.
The second best thing to being a Hubspot customer is being a free subscriber to its marketing library and a regular visitor of its blogs. Take it from someone who is!