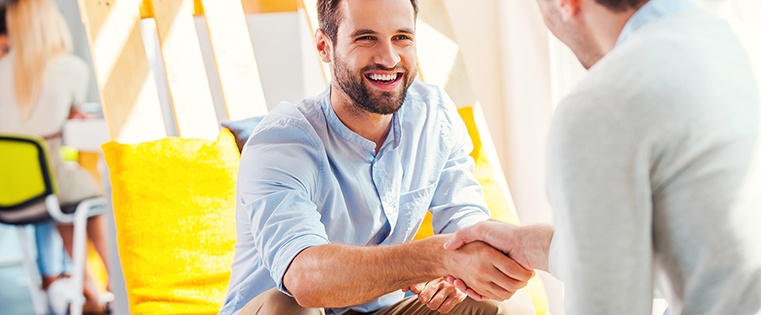 It's no secret: Many agencies struggle every single day to acquire new clients.
And while a strong marketing mix of advertising, social media, and public relations can certainly go a long way in promoting your agency, none of these channels quite equal the value of a positive client referral.
According to Wharton School of Business, a referral customer costs a lot less to acquire and has a higher potential for retention and loyalty. In fact, a referred customer has a 16% higher lifetime value than a non-referred customer.
Client referrals are one of the most powerful user acquisition channels you can use to grow your agency, since you're able to go straight to the decision maker without having to exchange a bunch of calls or cold emails.
When I was running a lead generation agency, I noticed that the deals that came through referrals had the shortest sales cycle. In fact, leads generated through referrals convert roughly 30% better than leads generated from other marketing channels. People are more willing to commit to an agency that they trust -- and the best way to build early trust is through a client referral.
Referrals are undeniably powerful, but how can you generate quality referrals for your agency? The most underused tactic for getting referrals is leveraging customer feedback. In this post, I'll cover some simple ways you can leverage customer feedback to get more referrals for your agency.
5 Ways to Leverage Client Feedback for More Referrals
1) Identify your advocates
Identifying potential client advocates can seem like a huge challenge for a busy agency, but using a simple Net Promoter Score (NPS) survey can help make the process a little easier. Using an NPS survey can help you pinpoint potential advocates and turn your client feedback channel into a referral growth engine.
A Net Promoter Score is a customer loyalty metric utilized across multiple industries to measure how happy a customer is with your product or service. An NPS score is determined by sending out a single-question survey to your clients that asks: How likely is it that you would recommend our company/product/service to a friend or colleague?
Respondents are asked to score their answer based on a 1-10 scale. Responses of 7 or 8 are labeled as "Passive", and scores of 0 to 6 are considered "Detractors." If a client responds with a score of 9-10, they're labeled "Promoters" of your business. This group is most likely to provide referrals.
2) Follow up with your promoters
Just sending out a Net Promoter Score survey isn't enough. You need to follow up with potential advocates and keep the positive momentum rolling along. What's the use of seeing a set of data with people who selected 9 and 10 if you're not going to use it to your advantage?
You have to mobilize your promoters by engaging with them. Your promoters are your advocates. They are the people who took the time to select a NPS response and pretty much raised their hands saying, "I am willing to recommend your agency to my friends."
Once you have identified your promoters, you should formulate a plan to follow up and make it easy for them to refer your agency to their professional network. Consider using an automated NPS follow-up tool (such as YesInsights) to immediately reach out to your promoters with a discount or referral code.
If you have an employee at your agency who handles new business development, you can have them reach out personally and see if your promoter would be interested in referring your agency. The key here is to make it easy for your promoters to refer your services to their professional network. Referrals and recommendations from real clients will outperform any share button or social media campaign over the long term.
3) Use promoter feedback for testimonials on your website
"One of the best ways to connect with prospects is by using stories from existing customers."
– Alex Turnbull from Groove
People are more likely to trust your agency early on if they have social proof of your expertise. Groove, a helpdesk software company, found that adding quality testimonials to their homepage, guest post landing pages, and email marketing led to an increase in conversions by up to 15%. As a tech founder myself, I'm more likely to try a product or service with a good testimonial from someone that I know or know of that's an industry expert.
For an agency, testimonials and case studies are one of your most powerful assets. A great way to get testimonials for your agency is simply by asking for client feedback and turning that exact same feedback that you receive into a testimonial on your website.
There are two ways you can approach this: One is by analyzing all the comments you get from the NPS survey, and then personally emailing each respondent to ask for permission to use their comment as a testimonial.
The second way would be to send out a short survey soliciting client feedback from promoters. Let's say you worked with a client recently and you know that they're delighted by the results based on a recent NPS survey. This would be an ideal client to reach out to about writing a quick testimonial for your website.
4) Turn passive clients into promoters by acting upon critical feedback
Eric Siu, founder of Single Grain, likes to ask his clients, "What's one service we can add to our list that will make you super happy?"
People value service that goes above and beyond their expectations, and they tell others about those experiences. As an agency, your top goal should be to provide the most elegant experience for your clients. This is done by creating exceptional experiences that cultivate long-lasting and positive client relationships. One of the best ways to turn clients into promoters who are likely to refer your agency is to act on their critical feedback.
Think about some initiatives you can implement to make your customers sit up and say, "whoa that was great." Account managers checking in regularly with the clients or the CEO of the agency personally reaching out and engaging with the clients is a great way to boost these type of advocate-building experiences.
5) Offer a referral incentive to your clients
By now, you should be actively engaging with your clients and ultimately trying to generate as much feedback as possible. If you're sending out surveys and actively engaging, you can also offer them a referral program where your client can gain some sort of incentive for referring their professional network to your agency.
After you send out your NPS or one-click survey asking the client for their feedback, consider directing users to a thank you page offering a reward for sharing their testimonial on social media or via email.
Does this necessary need to be a cash offer or a referral program? Nope. You can add value to your customers by offering extra training on new products, sending them some free t-shirt or swag, or even taking them out for a day of golfing. Each of these examples show you're genuinely investing in the relationship.