Perhaps one of the most challenging parts of making an impact on social media is coming up with something profound in 140 characters. That's right; I'm talking about the tweet.
A tweet is short, sweet, and to the point. And crafting one often leaves us staring blankly at that little blinking cursor, hoping for a way to rephrase the tweet to let up some characters for an image, a link, or that ever-essential hashtag.
Unsurprisingly, a Twitter bio is equally challenging.
You mean to tell me that I have 160 characters (thanks for the extra 20?) to explain to the Twittersphere who I am, what I do, and why my Twitter is worth the follow?

You bet.

Some people take the short, staccato route, using descriptive nouns and verbs to let people paint the image of who they are: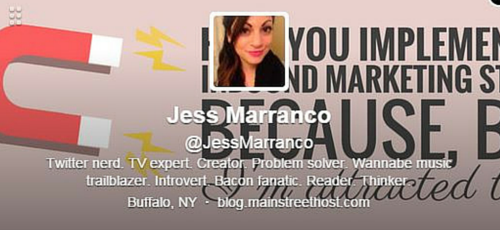 I can't take credit for this masterpiece. The basic Twitter bio above was generated here.
Some people boast their impressive accomplishments* and job titles:
*Not actual accomplishments.
Today, however, we're taking a moment to highlight the entertainers; the people who forego the chance to show off their accomplishments and affinity for craft beer for our utter amusement.
I've scoured far and wide and am proud to present to you 38 of the most amusing bios from real people, beloved brands, and fictitious characters that pepper the Twittersphere. Without further ado:

Why we're amused:
Stand-up comedian and writer Mike Trainor literally makes my inner 7 year old want to ask him to pull my finger. Also, imagining Mr. Trainor saying, "He who smelt it," while looking as dapper as he does in his profile picture is a little slice of added amusement.
He's a comedian (as are several others on this list, appropriately) so he's just doing his job and keeping us amused on social media.

Why we're amused:
With an admirable mission, and an impressive track record for trolling lame dinners (since 1971? Way longer than any job I've held thus far), I find myself respecting Hamburger Helper and thanking them for helping me escape what would have been many subpar babysitter dinners.
(Side note: Cheese. Bacon. Hamburger.)

Why we're amused:
UberFacts fills our brains with seemingly unnecessary information all day, every day. Though with the rise of games like Trivia Crack, I wouldn't say we'll never need to know this stuff.
Nutella uses 25% of the world's supply of hazelnuts.

— UberFacts (@UberFacts) February 17, 2015
I mean I don't see how this fact is unimportant in any way whatsoever; but I respect the modesty, UberFacts.

Why we're amused:
The Super Bowl? Who cares! What we got out of Sunday, February 1, 2015, was a legend: Left Shark. The seemingly intoxicated (or sensationally rebellious) counterpart to Right Shark danced his fins off to the beat of his own drum during Katy Perry's halftime show.
Left Shark stole the entire show (and our hearts), and is now letting us all feel #blessed by gracing the Twittersphere. He may be Left Shark, but he's the right shark for us all.

Why we're amused:
I [verb describing feelings of having a strong liking for] this. American actor Nelson Franklin gets us. We've seen enough "Actor/Entertainer/Jazz Pianist" Twitter bios, seriously.
Franklin took it upon himself to create a bio that not only asks his followers to test out their imaginations, but one which will also withstand the test of time. I mean, no matter what Nelson Franklin becomes in life, "Noun/noun/noun" is likely to be pretty accurate.

Why we're amused:
Because could you even imagine if all those questionable tweets from 2008 resurfaced? Comedian, actor, writer, and director Mike Birbiglia might know something we don't about the history and future of Twitter.

Why we're amused:
Mike Davidson, VP of Design at Twitter, is a connoisseur of sorts -- but his discerning eye is apparently only aimed at coconut water and eggs. Which I can respect.
I also can't help but wonder if the fact that there are only 160 characters allowed in a Twitter bio has to do with the aesthetics of a Twitter page's design. Is Mike Davidson to blame?!

Why we're amused:
Some people aim to save neglected pets. Jamie aims to save neglected houseplants. Buffalo, NY resident (and coworker of mine at Mainstreethost), Jamie Amacher, knows the importance of keeping plants alive indoors (since we don't get to see much plant life outside during the nine months of winter we're amid currently).
I must say, it's a noble act; sacrificing a Twitter bio for the sake of our forgetful nature and thirsty houseplants.

Why we're amused:
Like a homeless individual asking me for beer money, I can respect this. The mysterious Sixth Form Poet is an author (as he's quick to remind us) of the book The Sixth Form Poet: Deep Thoughts and Wise Words, and offers up his Twitter handle (@sixthformpoet) on the book's cover as authorship. The Sixth Form Poet has attracted 143k fans to date, fitting as even he once Tweeted:
It would be so cool if I had lots of fans.

— Sixth Form Poet (@sixthformpoet) August 23, 2013
His Twitter bio is also a quick glimpse into his world of witty quips and poems personified on his feed and, apparently, in his book.

Why we're amused:
Harry Potter fans, rejoice (or cower in fear); He-Who-Must-Not-Be-Named has a Twitter. And he's who Christina Perri was singing about:



Why we're amused:
Sarah Haskins is a writer / actress / producer according to her IMDb, and is well-known for her satire pinpointing gender stereotypes. One such work being the TV series Trophy Wife, apparently based off her own life. The irony is that Sarah herself went to Harvard and has an impressive resume; so much more than what we might perceive a "trophy wife" to be.
So, while this has not been confirmed by Haskins, it seems as though her Twitter bio itself is poking fun at the fact that women are made out to look like they "lose everything." And I may or may not be able to say that there is some truth to that. At any rate, male or female, the bio is amusing.

Why we're amused:
I always appreciate a bit of tasteful self-deprecating humor, and Shelby Fero gives us just that in her Twitter bio. Though, according to HiTFiX (and her impressive Twitter following of 112k), it seems that people are crazy about her -- at the very least on Twitter. An added bit of hilarity and amusement comes from the link within her bio, which leads to this:


If you're curious about her work, she's also conveniently included a link to Google search her instead of providing a website.

Why we're amused:
Quite simply, because I don't know who this Kevin Spacey character is, but I wish him the best of luck on his creative endeavor.

Why we're amused:
Sara Rubin is a video producer at BuzzFeed. You can thank her in part for many of the fantastic BuzzFeed videos you see circulating around social media and love are obsessed with. If you've seen any videos she's featured in, you know she's hilariously awkward, anxious like a good handful of us, and an overall loveable and whimsical character (Can you tell I'm a fan?).
Her Twitter bio is just as imaginative and adds a touch of fantasy that I think provides a welcomed breather from some of the more serious Twitter bios out there.

Why we're amused:
John Cleese is an English writer, actor and tall person (according to his website). He is also 75 years old. As he is also a comedian, we're allowed to find it incredibly humorous that he mentions in his Twitter bio that he's still alive, contrary to rumor. He is also doing the silly walk in his new app, and believe you me, it's silly.

Why we're amused:
First off, it's clear to me that BFF Twitter bios are the BFF necklace of 2015. The well-known actors of Arrested Development,Will Arnett and Jason Bateman, wear their BFF-dom proud for all of the Twitterland to see.
This isn't the first time they've taken their affinity for one another to the public eye, as they were seen strolling down the street on a sunny afternoon together holding hands in 2013. Friendship is the best!

Why we're amused:
In a similar fashion, writers Alison Leiby and Alyssa Wolff have obviously made a BFF pact to dedicate their Twitter bios to one another. Again, I approve.

Why we're amused:
No explanation necessary. (Even if it was necessary, I've literally got nothing.)

Why we're amused:
Comedian Aparna Nancherla's Twitter handle (@aparnapkin) is seemingly a play off her name, which is silly enough. Based on her bio I'd be willing to guess that her Twitter feed is equally as amusing.
That assumption is backed up by TIME, as her feed was named one of The 140 Best Twitter Feeds of 2014. Out of about 288 million monthly active users on Twitter, that ain't too shabby - she's definitely considered a comedian in this culture, if I had to guess.

Why we're amused:
In case you haven't guessed it, this is NOT Mark Zuckerberg. But that doesn't stop @notzuckerberg AKA @afterthatsummer from tweeting as if he were the "Zuck." And the fake Mark Zuckerberg is pretty funny as proven by his Twitter bio and tweets like this:
Facebook beat Wall Street's target again. I am a wizard making mad coin from the most abundant thing on earth—your desire to procrastinate.

— Not Mark Zuckerberg (@notzuckerberg) January 29, 2015
Touché, fake Zuck, touché.

Why we're amused:
I've always been kind of amused by Anna Kendrick's self-deprecating humor in general. First of all, she's stunning. Secondly, as proven by her Twitter bio and several funny ads she's done recently (ahem, the "Non" Super Bowl ad), she's hilarious.
So I'm really not buying this whole "I haven't been hit on in five years" thing - Sorry, Anna. I also love the location she listed. (Samesies.)
Why we're amused:
This account pokes fun at "first world problems," where people complain about things that really don't matter in the grand scheme of things: cold French fries, getting the wrong latte, a cell phone dying, or, as @FirstWorldPains mentions in its bio, the absolutely TERRIBLE moment when you really, really want to write a good online bio, but can't think of anything. #worstdayofmylife

Why we're amused:
Charmin, as we know, sells toilet paper. Toilet paper that we use to wipe our butts. We're all adults here. Charmin's Twitter bio is amusing because they get the awkardness out of the way immediately and let us all know that, hey, toilet paper can be fun, too - and a good bathroom trip should be celebrated.
In addition, their header photo says "Saving the butts that save our butts!," which is promoting their Charmin Relief Project campaign, where Charmin aims to deliver 30,000 rolls of toilet paper to firehouses all across the country! That's a lot of butts.

Why we're amused:
According to a quick Google search, Jimmy Kimmel's net worth is a meager $35 million. Slow your roll, Jimmy; you're not quite a billionaire yet. But, HEY! Even millionaires can dream big. Also, that profile picture/header image combo, though!
(Spectacular view of this and most bios in this post via TweetDeck.)

Why we're amused:
Because Dane Cook's Twitter feed is potentially lethal.

Why we're amused:
Because we see what you did there, Comedy Central.

Why we're amused:
Because (if and) when Conan O'Brien is wrong, Team Coco doesn't wanna be right. Don't apologize for your gift, Conan.

Why we're amused:
BECAUSE AOL INSTANT MESSENGER (AKA AIM). If looking at this bio image gives you an overwhelming feeling of nostalgia, then you already know why it's amusing. Remember AIM profiles? And subprofiles?! Or the sound of that creaky door opening when your ~*cRuSh*~ signed on?
Also, the location being "the den" is on point. If this doesn't hit home for you, view this BuzzFeed article, or move on to the next!

Why we're amused:
Sarah Silverman is known for being sassy, random, and hilarious. Her Twitter bio is no exception. The bio is apparently referencing her acceptance speech during the Emmy's in August 2014. Though it's true; we are all just molecules … Cutie?

Why we're amused:
Ellen DeGeneres is amusing us on social media, television, real life, etc. She's just plain amusing. So it should come as no surprise that her actual bio on Twitter is pretty darn amusing. According to her bio, she has a second job as an ice road trucker (hmm…), and her tweets are both real and spectacular. And she's not lying about her tweets (see below) so what does that tell us about her second job? I buy it.
Today is Friday the 13th, and 50 Shades of Grey comes out today, so that means some people are gonna get lucky and unlucky at the same time.

— Ellen DeGeneres (@TheEllenShow) February 13, 2015

Why we're amused:
Supermodel Chrissy Teigen is married to singer and entertainer John Legend, and they are (presumably) quite happy (AND BFFs with Kimye!). Which could only mean that Chrissy's Twitter bio is evidence of her sarcastic humor, which we all find quite endearing, as verified by the online publications that have featured her hilarious tweets.
Moreover, her location is apparently referencing the infamous speech of Miss Teen USA 2007. I dunno about you, but I'm officially amused.

Why we're amused:
The second Kimmel on my list, Jonathan (who's net worth I'm not sure of), little brother to Jimmy, fills us in on how he got to where he is today … in his 30s. Fascinating!

Why we're amused:
Fame didn't get to Tom Hanks' head. He's just a normal person like you and I, having issues with fluctuating weight, and also gaining some people's approval and others not so much. Live on, Tom!

Why we're amused:
I know I said I wasn't going to include the braggers - and don't get me wrong, Blake Griffin, it's cool that you play for the LA Clippers and all - but selling 2 Chainz the second chain? That's where you've earned Twitter bio bragging rights.

Why we're amused:
If you're a fan of Frank's RedHot like myself, you actually DO put that $#!t on eveything. So they might as well put it on Twitter, too.

Why we're amused:
Because I wish eating popchips was in my job description, since when they're around, I certainly eat them like it's my job.
Did I miss a Twitter bio that's hilarious or amusing? Let us know in the comments below!