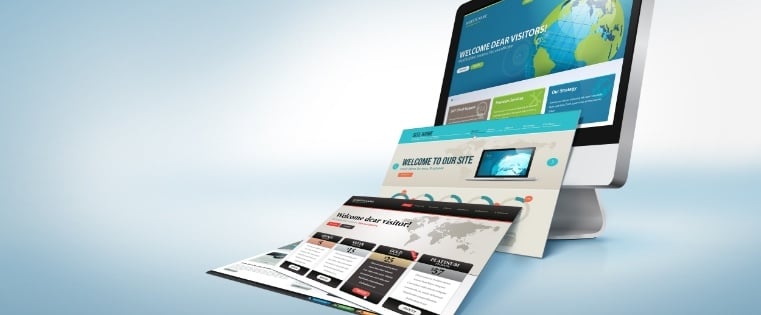 If you're serious about generating leads through your website, you'll probably have several landing pages set up for a variety of content offers, with multiple conversion paths for visitors to take. That's great, but it's surprising how many people miss relatively straightforward opportunities to drive conversions on their home page.
Think about it - your home page is almost certainly the most visited page on your site. But how many people arrive and bounce straight off? If you can keep them there and push that conversion rate up by just a couple of percentage points - that's potentially a big increase in leads.
Many home pages underperform because people are reluctant to change them. The design, layout and content were probably settled on following hours of discussion involving multiple contributors during the initial website project. So there can be some anxiety about tweaking that formula. Understandably, because the home page is so important, some people just won't want to mess around with it once it's done.
However, there's no need to treat your home page like a sacred text - and making changes doesn't have to be a huge project. This list contains 15 things you can do to drive more conversions on your home page without reinventing the wheel. And by sharing the rationale for such changes with your colleagues, you should be able to ease any lingering doubts.
1) Put people on your home page
Think carefully about the images on your home page. If you don't include images of people actually using your product or service (or looking like they need to), it could be difficult for others to imagine themselves doing so. Using images of people in industries and scenarios that your prospects will recognise and identify with is a simple way to add the human element to your business, and could be the simple prompt a visitor needs to click your 'contact us' button or another CTA.
2) Avoid poor stock photos
Putting people on the home page doesn't mean using the first stock photo you find. Be careful about the images you select - many of those available in stock image libraries are bland and cheesy. A poorly chosen image will quickly send visitors away. You need images that relate to your target industries, will resonate with your prospects and most importantly inspire action.
3) Use emotional language on your home page
Don't overdo it, but rewriting the copy on your home page to provoke an emotional response in your visitors is a good way to increase conversions. The first step is to think about your potential customers and identify their emotional needs. You can then write copy that taps into those emotions. HubSpot recently shared this list of emotional words that could help you to get started.
4) Show your product on your home page
It's surprising how many businesses don't show their product on their home page. If you're a huge organization with a strong brand, you probably don't need to. But if you're struggling to convert people on the home page, this could be a reason for your problem.
Software firms are some of the worst offenders here. People want to know what your product looks like - can they see themselves or their colleagues using it? They shouldn't have to delve further into your site to find out what it's like. Including a few screenshots is a simple way to give people an initial idea of your user experience.
5) Get to your value proposition quickly
Research has shown that a large percentage of website visitors will leave between zero and eight seconds of landing on the page. You only have a few seconds to get your unique value proposition across, why people should do business with you and the benefit of it. You need to make this clear with a simple, punchy and jargon-free headline at the top of your home page.
6) Try different CTAs on your home page
Don't be afraid to experiment with different calls to action on the home page. You don't always have to offer content to generate leads. Sometimes you may instinctively feel that the home page is just too early on in the user journey to justify pushing your white papers and guides. But sticking to a generic 'contact us' or similar CTA probably won't set your conversion rate alight.
Think about what your visitors are likely to respond to and experiment.
One of our software reseller customers recently boosted conversions by changing a home page CTA to 'Request a demo'. Their prospects were clearly engaged by the prospect of signing up for a demo, rather than just making contact.
7) Use testimonials/social proof on your home page
Social proof and testimonials build trust. You need them on your home page, not tucked away in a corner of your site. Select a few of your best quotes from satisfied customers, with names and photographs if possible. You can also link through to full case studies if appropriate.
This kind of content can be particularly persuasive for prospects who shortlist your product alongside several others and are looking for a reason to make a decision. Putting it on the home page shows you can afford to be open and transparent about what existing customers think.
8) Keep your forms simple and short
Forms on the home page should be as short as possible. You can use a larger number of fields on your landing page forms for high-value content offers, but remember that many people arriving on the home page are engaging with your business for the first time. Don't give them a reason to leave, which they almost definitely will if faced with a form that looks time-consuming.
Think carefully about what you really need on your forms and remove anything that is surplus to requirements.
9) Include a great content offer
Many people will want to find out more about you before they download some content, but there's nothing to stop you from promoting a really great white paper or downloadable guide on the home page. Choose the content offer that best represents the current focus of the business and create an outstanding CTA to tempt visitors into downloading.
Don't forget that your navigation also needs a clear link to a resources/download center, where people who aren't yet ready to download can see the content you have to offer.
10) Add a video
Video can be a powerful conversion tool for your home page. According to Crazy Egg, people who watch a video of your product are as much as 85% more likely to buy.
For IT and software companies, demo and walkthrough videos are particularly effective. You can't explain all the features of your software in text on your home page, and few people would take the time to read it anyway. A video can explain what your software does and why it's better than the competitors all in less than a minute. Due to the abundance of screen capture and recording tools now available, making this kind of video is also relatively cheap and straightforward.
11) Don't use a slider/carousel
The use of home page sliders, also known as carousels, was identified as "one of the most prevalent design flaws in B2B websites" by Search Engine Land in 2013. They were right, but there are still too many sites clinging on to this feature - and it can damage conversions.
Sliders are problematic from a number of different standpoints, including SEO (multiple slides means multiple H1 tags to dilute your keyword relevance) and website performance (slides featuring hi-res images typically increase page load times). The potential result is that either people don't find your site in the first place, or they'll get frustrated and leave before you even have a chance to convert them.
12) Optimize your home page for search
More traffic to your home page means more conversion opportunities, so don't treat SEO as a separate job best left to your technical colleagues. Before you convert, you need to get found - so your home page has to be optimized for search.
Identify your main keyword, plus supporting keywords and phrases, and follow SEO best practices with the content on your home page. It's important not to neglect any aspect of your page, from the meta description to the H1 tags and image alt tags.
13) Put CTAs above and below the fold
Placing a call to action below the fold (where visitors must scroll down to see it) can seem counter-intuitive. After all, you want people to see your CTA button and click it straight away to maximise conversions, right?
Of course that makes sense, but several tests including those highlighted here by Kissmetrics, show how some pages with CTAs placed below the fold have out-converted pages with a CTA right at the top. The key thing is not the placement of the CTA in itself, but where it is placed in relation to the copy on your page.
Do you need to explain the benefits of your product in more depth before asking your visitor to click? Or can you convince them with one or two lines of copy and a well-chosen image? These are the things you need to consider when placing CTAs on the home page.
14) Make it fast
You simply can't afford a home page that doesn't load quickly. The impact of a slow page on conversions can be huge. One Aberdeen Group survey found that a single second delay in page load time typically results in 11% fewer page views, a 16% customer satisfaction rate and a 7% loss in conversions.
15) Test everything
The final point goes back to one of my original recommendations. Unless your conversion rate is already sky-high, don't treat your home page like it's set in stone. Test different approaches, different headline copy, an alternative CTA placement, a new image style or form. Monitor your results. Keep working at it and you'll see a much better return.
See, that wasn't so bad, wasn't it? The truth is that no homepage is perfect and you shouldn't worry about trying new things, especially when the benefits far outweigh the risks. The trick is to understand that improving your homepage conversion rate doesn't have to be a huge project.
All you have to do is start small and focus on a few of the areas above for some quick wins. Maybe add a video, hone your emotive language, try a couple of different CTAs, and then continue optimising from there. Pretty soon you'll have a homepage that swaps bounce rates for greater user engagement and helps improves conversions across the board.