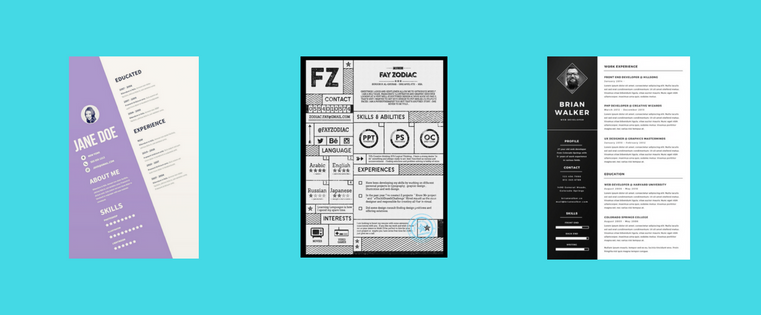 While an eye-catching resume alone probably won't land you your dream gig, it doesn't hurt to put a little extra effort into how you present yourself on paper.
The right resume design speaks to your individual skills and personality, and can propel your application to the top of the stack. But finding the perfect design can be a major hassle -- and applying for jobs is already hard enough.
We've scoured the web for some of the coolest, most unique resume designs to help you stand out in a sea of Times New Roman and crowded copy.
You'll want to steal each and every one of these creative resume designs -- and the good news is: You can! These generous designers have made their work available for free download. Read on to check them out and find a great fit for your next job application.
15 Unique Resume Templates
1) Infographic Style Resume Template
Created by digital art director and freelance designer Fernando Báez, this unique, infographic-inspired resume template helps you organize your work experience and skills into a minimal visual layout. Báez has made the template available for free download here.
2) Bold Classic Resume Template
If you're looking for a more traditional resume template that still makes a bold impression, check out this creation from Finish designer Mats-Peter Forss. The template includes space for a headshot, and is available for free download here.
3) Resume Template with a Simple Color Accent
Adding color to a resume might seem intimidating at first -- especially if you're applying to a more traditional workplace -- but a few sophisticated pops of color can add some interest without compromising on professionalism. This template from designer Eduardo Ogawa uses bright accents to spice up the traditional layout. You can download it for free here.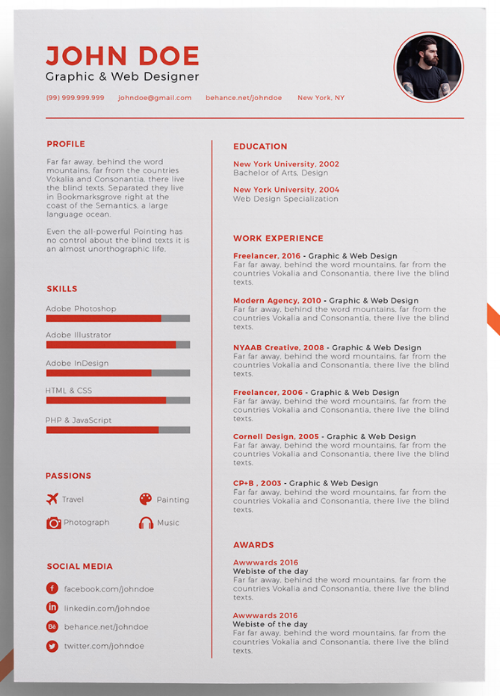 4) Resume Template with a Photo Background
This template from Polish designer Patryk Korycki is perfect for photographers, graphic designers, and other creatives looking to showcase a sample of their best work. The template can be downloaded here for free.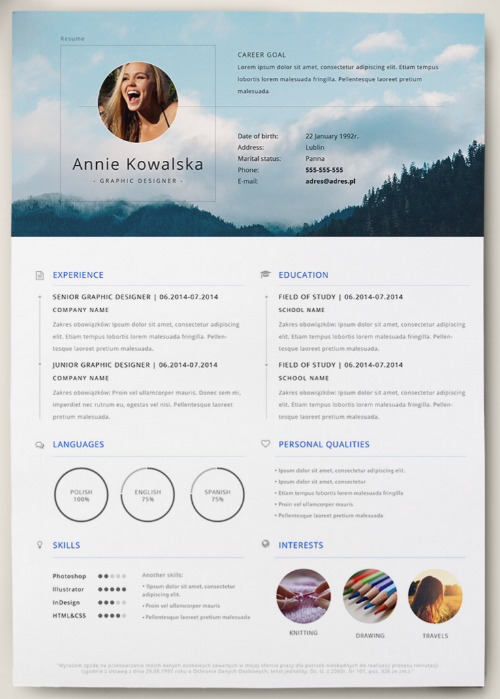 5) Graphic and Adventurous Resume Template
This is not a resume template for wallflowers. The folks at Createer whipped up this daring design as part of a free resume template pack, which you can check out here.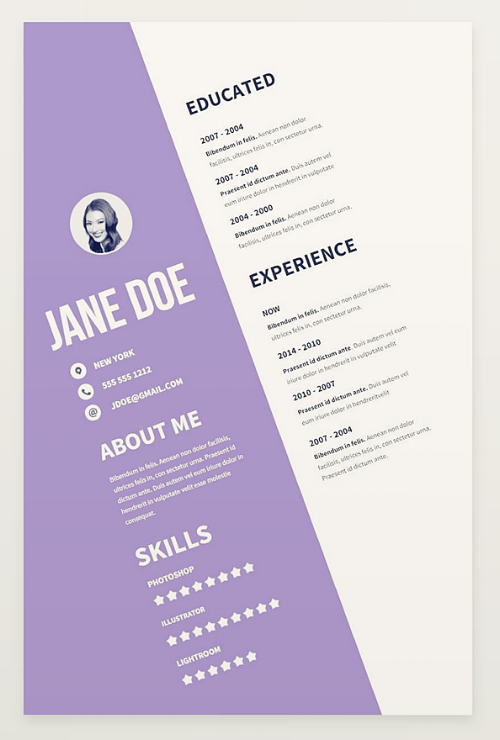 6) Resume Template with Subtle Color Scheme
Beiruit-based designer Wassim Awadallah serves up a simple, two-page resume template for more advanced professionals. Displaying the headshot and contact information on the cover leaves plenty of room on the second page to document all your career highlights and accomplishments. Download the template for free here.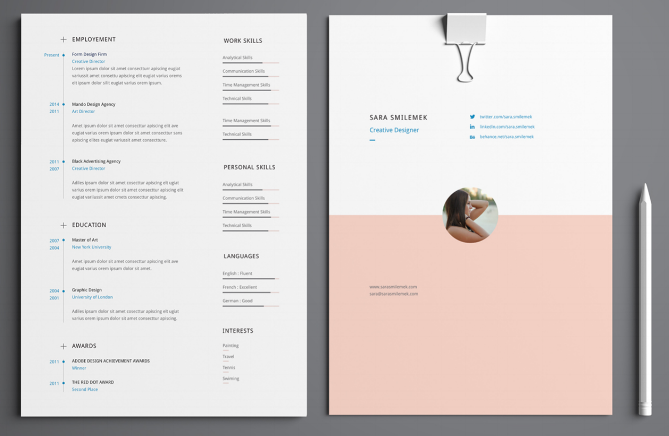 7) Resume Template with Pops of Primary Colors
Proof that color can be professional, this template boasts a compact, sophisticated layout and bright, colorful accents. Designer David Gómez actually uses this resume template himself, and he's been generous enough to share it for free download here.
8) Black and White Resume Template
Running low on colored ink? Check out this minimal black and white template from editorial designer Bro Luthfi. The simple design is anything but boring, and includes a set of custom icons to add some visual interest. You can download the free template here.
9) Resume Template with an Organized Use of Space
When you're trying to crunch years of work experience and a laundry list of skills onto a single sheet of paper, things tend to get crowded quickly. This template from designer Tina Von Helsinki invites you to simplify. The distinct sections highlight different aspects of your qualifications -- eliminating anything extraneous and putting the focus on what matters to your potential employers the most. Download the template here.
10) Playful and Professional Resume Template
Italian designer Martina Cavalieri created this resume template with a set of 16 custom icons to highlight your interests and skills. The modern layout is anchored by a bold two-toned border: just enough color to help your resume stand out in the pile. Cavalieri offers this template for free download here.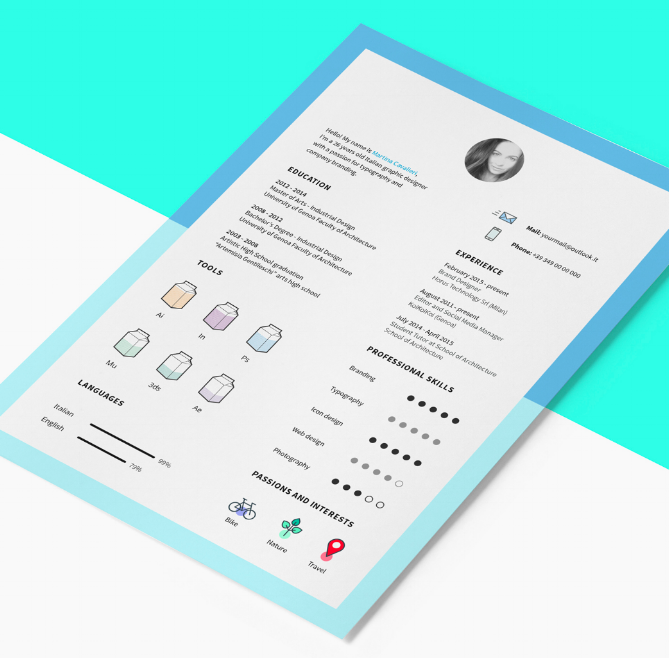 11) Clean and Modern Resume Template
Your resume is really your first impression with a potential employer, and this template design from the team at GoaShape is modern without being too edgy. The template pack includes a two-page resume layout and cover letter design, and can be downloaded for free here.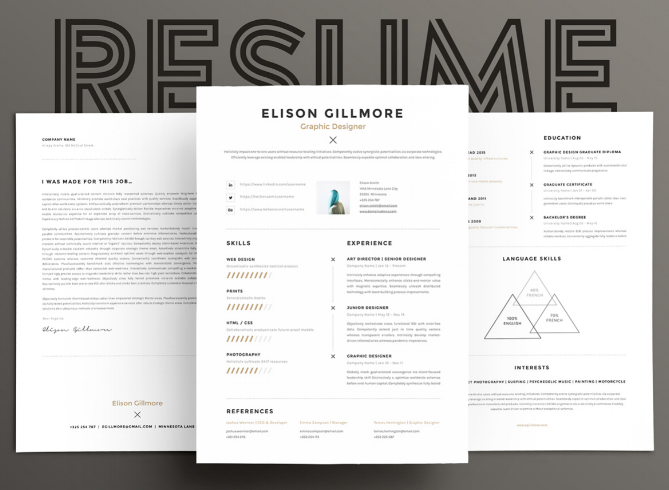 12) Resume Template with an Unexpected Format
If you want to really stand out in a crowded applicant pool, then this resume is definitely for you. Graphic designer and freelance photographer Paolo Pettigiani created this bold template for his own professional use, but has made it available for free download here.
13) Monochromatic and Retro Resume Template
This design from freelancer Fay Zodiac is a whimsical take on traditional resumes. The retro typography adds a playful element, while the boxy layout keeps everything from looking too busy or crowded. You can download this resume design here for free.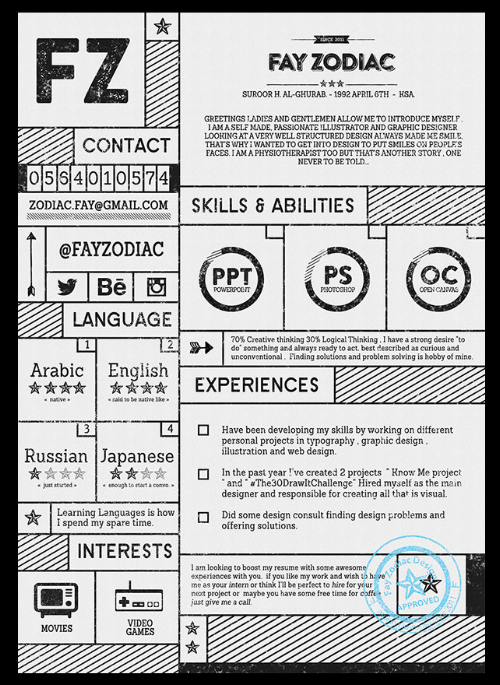 14) Center-Aligned Resume Template
If you want to mix up your resume format without going too crazy, try a center-aligned layout, like this clean, modern design by Zohan Habib. The custom icons and colored border add a nice creative touch. This template is available for free download here.
15) Vibrant and Visual Resume Template
Alessia Curcio, a Copenhagen-based designer, gives us a perfect example of how to incorporate kaleidoscopic color without going over the top. Infographic-inspired elements help clearly display work experience and skills with minimal text. Download Curcio's free template here.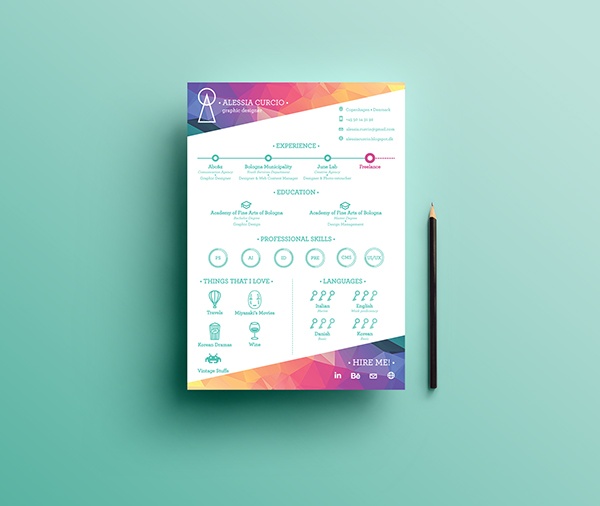 Didn't find the design you were looking for? We bet you'll find an awesome template in this free resume template pack.