For the uninitiated, content curation is finding information relevant to your audience from a variety of sources and sharing it strategically through your communication channels. The need for great content curators has never been more urgent. There are simply too many social networks, news feeds, emails, and infographics putting demands on your time and attention.
Without trusted content curators, how else are you going to stay on top of your industry's latest trends AND make sure you don't miss the latest viral video of a cat, in a shark costume, riding a Roomba? A successful content curator is no different than a successful wedding DJ. If your selections are ad hoc, safe, and uninteresting, you don't really know your audience. People can only hear Kool & The Gang's "Celebration" so many times before the floor clears.
But if you know your audience, you can accurately gauge the temperature of the room and have the confidence to give the people what they want. That's when Genuwine's "Pony" happens.
Using Social Media for Content Curation
I love Twitter. It's my gateway to the Internet. But when days are busy, I can't always keep up with my stream of 1,400+ accounts. And yeah, I get a little FOMO ("fear of missing out") when I can't troll my streams on the regular.
Fortunately, content curation has all but saved me from Twitter FOMO. As a salve, I've subscribed to Dave Pell's "Next Draft" and it provides me with the day's most noteworthy news that I otherwise would've discovered on Twitter. Even if I haven't checked Twitter all day, I know that I can read "Next Draft" and be up on the day's most noteworthy news bites.
Here, content curation solved one fundamental problem for me. I've saved time and the stress of monitoring Twitter by knowing that I can simply look to "Next Draft" for my Twitter methadone.
What Makes A Successful Content Curator
1) Content Curation Should Be Personal
The beauty of Next Draft is the personal touch and context Dave Pell gives to each story. If I wanted a bunch of browsable links, I'd go to an aggregator like popurls.com or AllTop. And sure, I still use aggregator sites, but my brand loyalty to them is almost as low as my brand loyalty to Spirit Airlines. I'd be the first to drop one if a better aggregator came along.
The personal touch creates a unique bond between curator and reader that aggregators haven't figured out how to humanize or duplicate yet.
2) Content Curation Should Build Value
Smart brands understand that value isn't just measured in dollars and cents. Value can also be measured in time or information. It doesn't matter what industry your customers are in. Every customer wants to save time and stay informed.
Your customers have demands on their time and can't possibly keep up with all the latest news in their industry. But they want to. And helping solve this problem through content curation presents a huge opportunity for brands to build a relationship with their audience.
If you can deliver a curated experience that saves your customers time in getting the information they need faster, you're on your way to building trust and loyalty.
3) Content Curation Should Offset Promotional Content
Customers grow tired of brands ceaselessly promoting their own wares. Which is why today's progressive brands think beyond products or features. Successful brands understand that the relationship customers have with brands today transcends the product itself. A product may initially attract you to a specific brand, but it's what the brand offers after the purchase that will keep you around (and make you a fan).
For example, I own one Arc'teryx jacket, but I follow them on YouTube, get their emails, and follow their feed on Twitter. Why? Because they're not just pushing product on me. They're pushing content and an experience that brightens my day.
4) Content Curation Shouldn't Take All Day
Thanks to a bunch of new websites and technologies helping brands curate content, it's never been easier to be a resource for your customers.
In an attempt to help streamline your content curation efforts, here are 11 content curation tools every marketer needs.
Content Curation For Beginners
If you're like "Yeah, I occasionally share a relevant post with my customers when I find one" you're curating content, but not a sustainable scale where you become a trusted source. There are better ways to curate content for beginners that's completely free. Here are three super simple ways to start getting in the habit of curating content without being overwhelmed by complex tools, subscription fees or convoluted dashboards.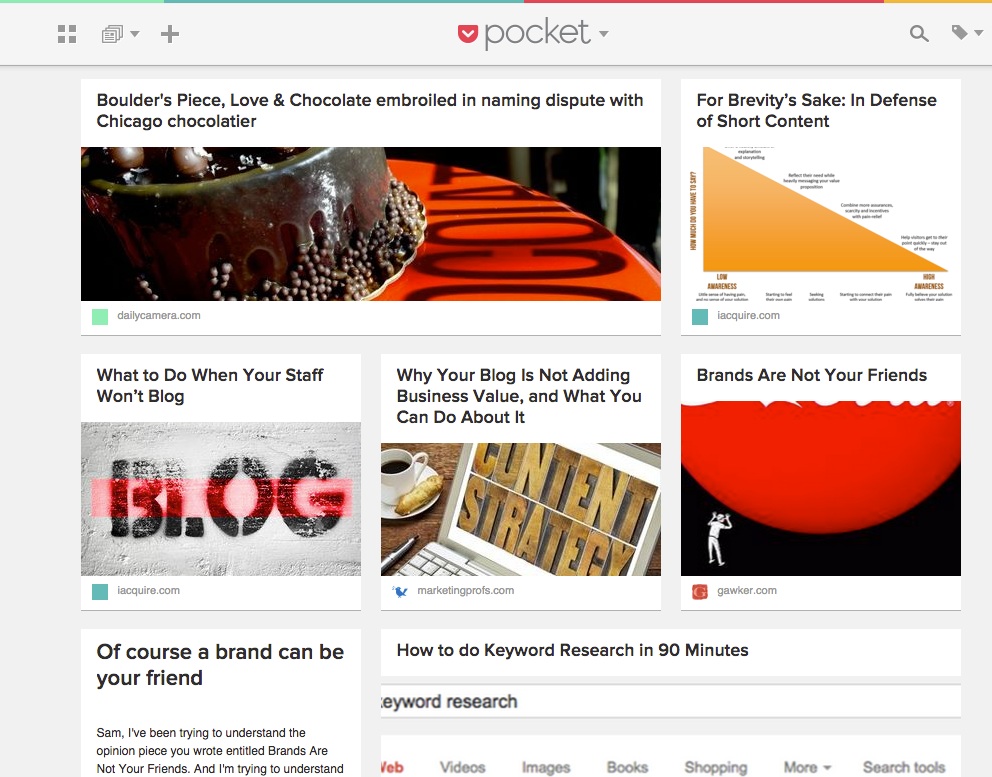 If you're content curation is ad hoc, Pocket is the perfect place to start and get you in the habit of accruing content to use and share later. Instead of a laundry list of bookmarks or countless emails you've sent to yourself with links, Pocket keeps all your interesting images, articles, and videos in one place for reference. You can group articles by tagging and built-in search functionality makes finding those articles easy.
Install Pocket's button on your browser for easy curation and download the app on your smartphone for cross-platform usage. And that's just the beginning. Pocket integrates with over 500+ other apps (like Evernote) for easy saving and reference.
And as a bonus, Pocket tweets out their @PocketHits for the most-saved articles on their platform. A must-follow for Twitter users.
For other "read-it-later" apps like Pocket, check out Instapaper and Readability.
2) Twitter Lists
And speaking of Twitter. As you may already know, Twitter can be a horrendous, streaming mess if you're not using Lists to organize the accounts you follow. A list is a curated group of Twitter users that you can create or follow. For example, at the end of every year, sites will release their content marketing "must-follows" on Twitter. Rarely do they create a list to make following these people or companies easy. So I created one for reference that I continually manage and update.
And here's the beauty part: If you create a Pocket account, you can easily save articles from Twitter directly into your Pocket account.
In Twitter's attempts to make their service more approachable and user friendly, Lists continue to be vastly underrated.
Learn how to get your first Twitter list started (it literally takes four steps).
3) Newsletters
Newsletters are back in vogue again. And they're a fantastic daily reminder to get your content curation done. I've found that the key to successful content curation, especially if you're doing it on the cheap, is making sure to duplicate your efforts.
For example, I follow HubSpot on Twitter, but don't always get a chance to see their tweets when I'm busy. Fortunately, HubSpot also releases daily newsletters of their blog posts. That way if I don't catch something notable on social media, I'm likely to catch it on email.
Whatever industry you're in, stay on the lookout for newsletter subscriptions. And if a good one doesn't exist in your industry, that's the perfect opportunity to create one. Before creating a newsletter of your own, learn from what others outlets are doing.
A couple notable newsletters doing a bang-up job in content creation include:
Redef: Jason Hirschhorn, one of the pioneers in social media and formerly the co-president of MySpace, has launched a site curating the best in media, sports, fashion, music and technology. Subscribe to one of Reder's newsletters for a taste of one of the best in content curation.
Quartz Daily Brief (sign-up can be found in the top-right corner): A newsletter doesn't have to be sexy to work well. Quartz has figured out how to make a text-heavy newsletter a stalwart in the news business with their Daily Brief. The beauty of their newsletter, because it's text-based, is the cross-platform functionality. Without heavy images, the Daily Brief loads quickly on phones, tablets and desktops making reading easy on any device.
Content Curation For Intermediates
You've got the basics covered (newsletters, social, and read-it-later apps). But you're looking for something a little more comprehensive, with a little more meat on the bone, and willing to pay for a subscription.
If you want a more comprehensive, algorithmically generated digest of news, feeds, and content to curate, you've come to the right place.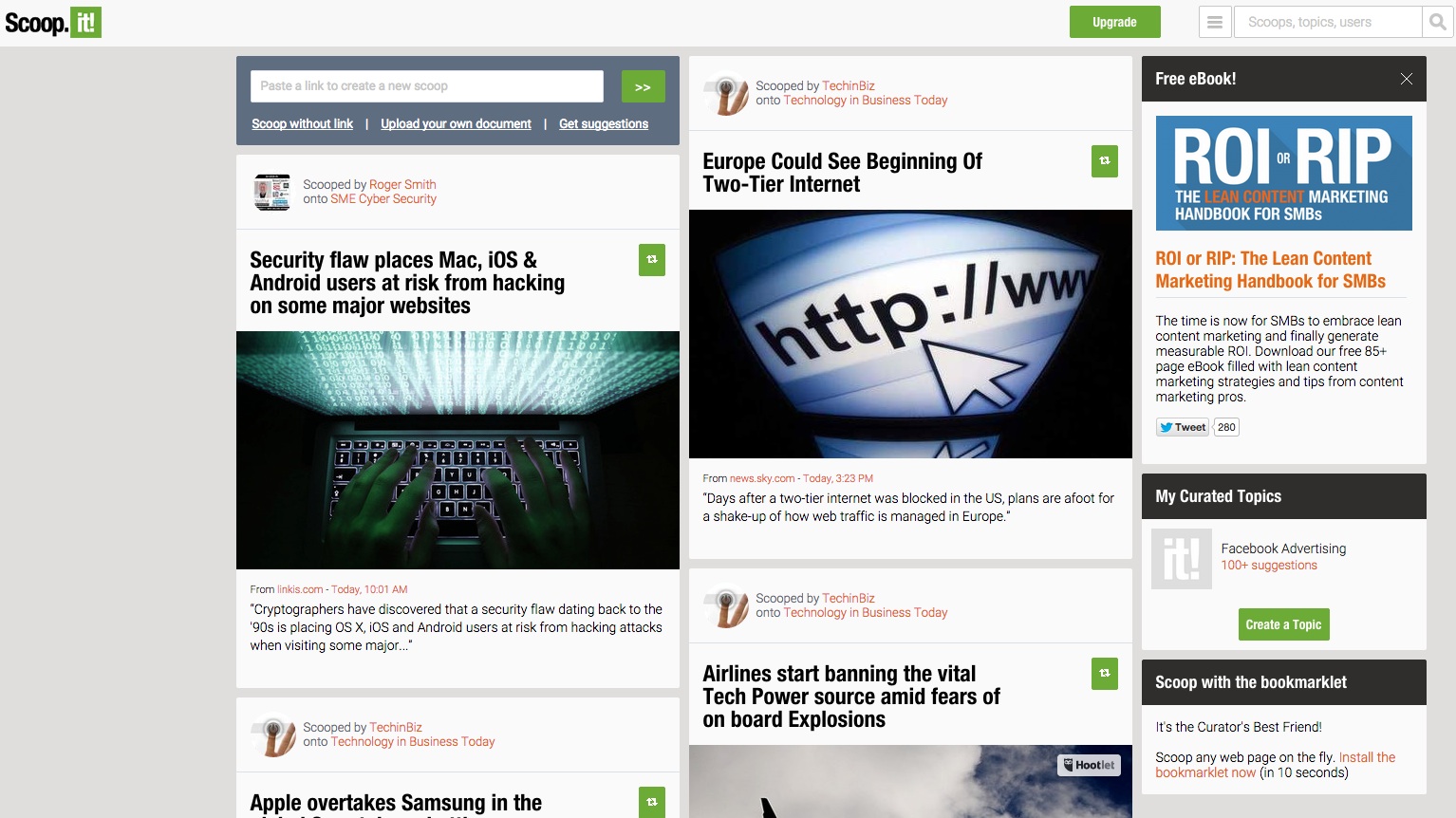 This is the nexus of content curation and social media with a Pinterest-esque user interface. Start with a topic of interest and Scoop.it will not only generate the most relevant articles to view and share, but it will also include complementary topics and other Scoop.it users to follow.
Scoop.it will send a daily update of the topics you follow to keep pace with the most relevant articles to share.
The free version allows you to monitor one topic for posting on two social media accounts. For a more robust platform that follows multiple topics for share across all your social channels, you'll pay $11/month (minimum).
Feedly is a supercharged RSS Feed and an ideal replacement to those who loved Google Reader.
Content curation takes two routes: There's web browsing 1.0 which is essentially visiting one site at a time, copying a URL, and pasting it accordingly. Then there's the news aggregation route powered by Feedly. By simply adding a few of your favorite sources to Feedly, you can aggregate and browse these feeds in one place from your desktop and mobile devices.
With the ability to sort sources by category there's a limitless ability to scale and organize Feedly. Feedly also offers a Pro service ($5/month; $45/year) with additional features like Evernote and Pocket integration, more search options, and premium customer support.
Storify helps makes sense of an increasingly overwhelming and noisy social web. The concept is simple: Users can search, browse or create stories from social media sites like Facebook, Twitter and Instagram to, well, tell or follow a story.
Now companies have started using Storify to broadcast the goings-on at events, Q&As, and product launches. For example, Mashable embedded a Storify feed from their Mashable Media Summit to highlight the most salient social media nuggets coming out of the event.
And perhaps best, Storify is completely free to use.
Swayy takes the work out of finding and tracking the analytics of content curation.
Swayy integrates your social accounts, topics of interest, AND analytics in one place to read and share. The onboarding is practically nil. By adding one of your social accounts, Swayy will start algorithmically curating some of the best and most popular content that comprises your social network. You can add topics and Swayy will broaden its search.
After signing up, Swayy sends a daily newsletter that's a great reminder to me to share noteworthy content across my social networks (and yes, Swayy allows for sharing capabilities within the app).
Swayy provides a free version that allows for one dashboard to use. For additional dashboards and functionality, pricing starts at $9.99/mo and goes up to $119/mo.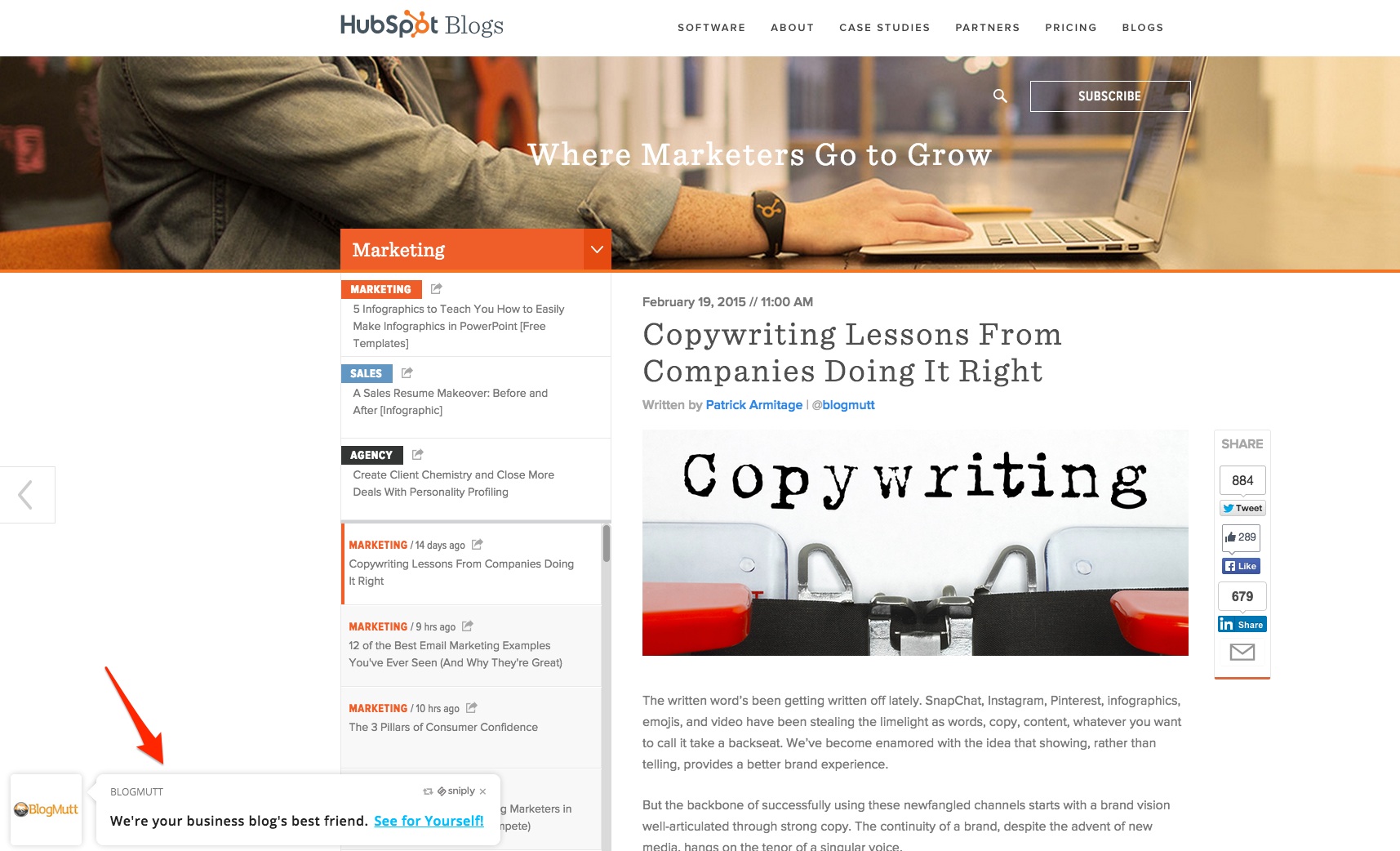 Sniply isn't a curation tool per se. But it's such an essential complement to anyone that shares curated information that I'd be remiss to leave it out. Sniply lets you include a custom message to almost any third-party content you share. There are a few sites that don't support Sniply, but in my experience, not enough to warrant the tool's exclusion.
When users click on a Sniply link, they'll see both the shared content and call-out displaying your message.
Sniply offers a free version that allows for 1,000 clicks/mo for one user. Sniply's added functionality can go up to $149/mo.
Content Curation For Advanced Users
Now we're getting into some serious, enterprise-level curation software. These solutions work best for companies looking for a proven platform capable of working with a team of users, editors, and content curators. Enterprise-level curation provides users with advanced algorithms to find quantitatively relevant content for your audience, a centralized publishing platform, and the ability to customize content, teams, and publishing channels (to name a few).
The power of Curata starts with its INSPIRE™ discover and recommendation engine capable of finding content relevant to your audience without oodles of human labor. Users can fine-tune, customize, and categorize content sources for review and then disseminate in one place. The publishing and promotion allows you to repurpose curated content across your blog, social, newsletter, and automated marketing platforms.
Pricing starts at $499/mo and goes up to $999/mo depending on needed functionality. There is no free version and you can request a demo before purchasing.
Like Curata, PublishThis promotes the reliability of its algorithm to source relevant content for your audience--saving the time and headache that goes with daily curation. PublishThis centralizes your communication channels on one platform making publication and posting easier. PublishThis also has an API to publish content to various platforms or apps. You can customize content to specific audiences while mixing in original content as well.
Again, pricing isn't made available to the public, but you can request a demo via their website.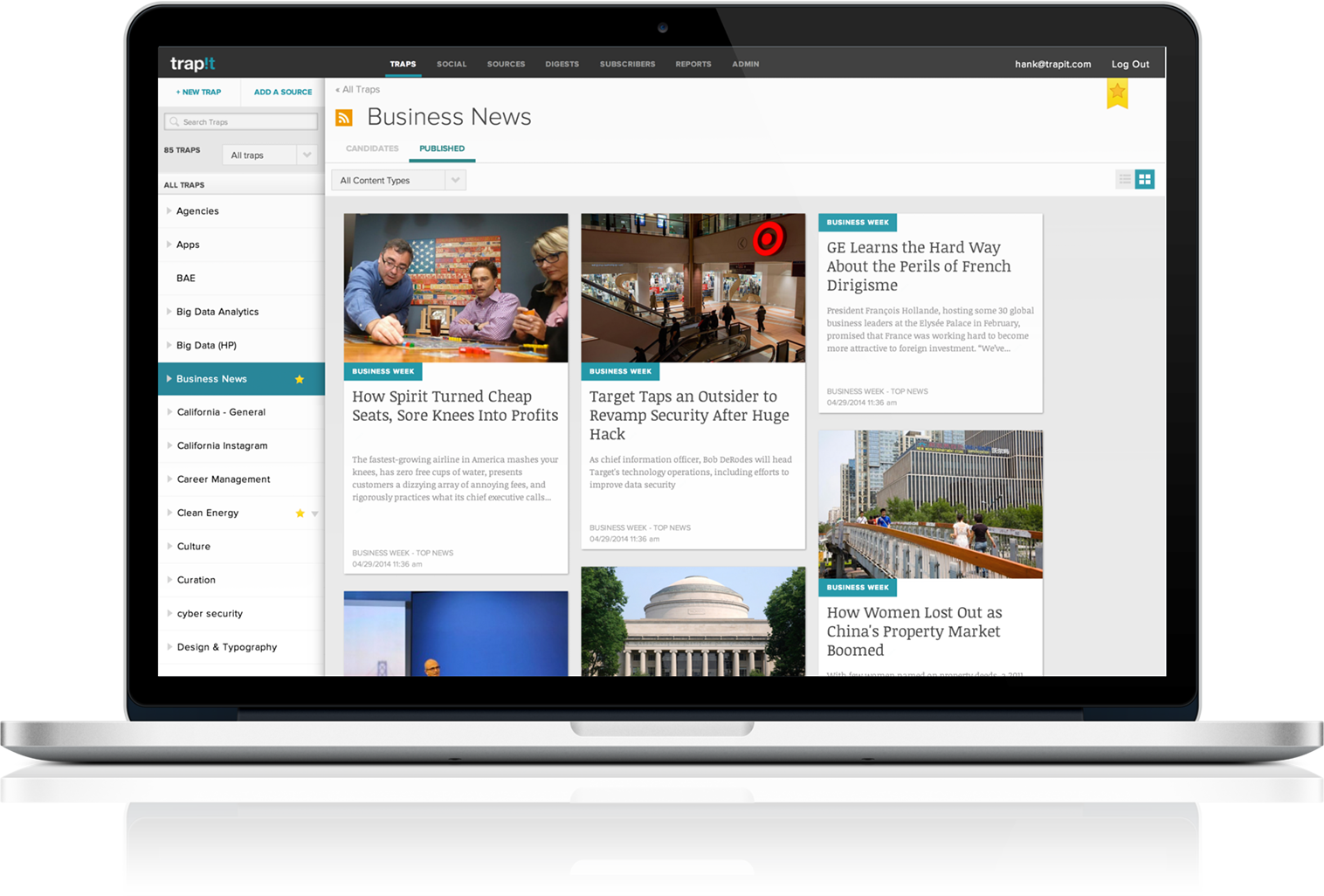 TrapIt allows marketers to set up content collections--called "traps"--then delivers a constant feed of real-time, relevant content based on these trapped topics and how you interact with the content. Here's how TrapIt describes their discovery engine: "We combine search, artificial intelligence, and human curation to surface original, high-quality content you won't find elsewhere."
TrapIt recently merged with Addvocate (a social sharing platform for company employees to contribute content) to create an end-to-end content curation, publishing and analytics platform. Content can be published through TrapIt and shared throughout the organization with Addvocate.
No pricing is available for TrapIt, but you can request a demo through their website.
What Tool Is Right For You?
Like any marketing software solution, it's important to understand the role content curation will play in your business and the size of your team. If you're a one-man marketing department, the beginner and intermediate curation tools should suffice for your needs. As your business and team grows, content curation may play a larger role and require more powerful software.
At that point, some of the advanced tools will help save time curating and getting everyone on the same page. Regardless of your team or business size, content curation should become an element of your content marketing strategy. Great curators build trust with their audience and become an indispensable resource as more and more content comes online and becomes harder to separate what's worth reading and ignoring.
What curation tools have you found helpful in your content marketing strategy?