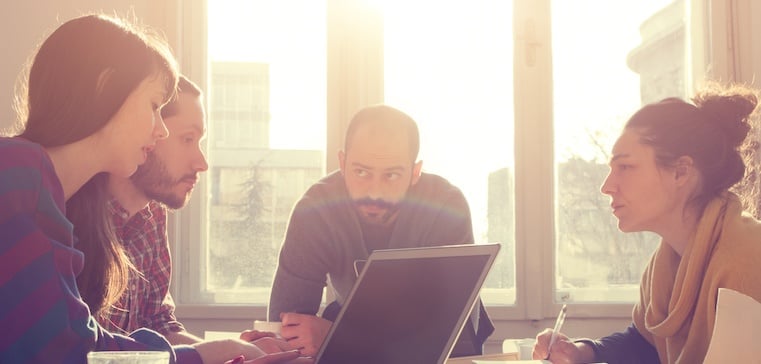 Free beer and foosball tables serve as a nice addition to any office, but do they really have an impact on employee engagement? Is that really what company culture is all about?
While it's likely that no one will complain about these perks (they're awesome, after all), many companies are shifting their focus to prioritize intrinsic motivators such as peer-to-peer recognition and frequent feedback as a way to improve employee engagement.
Why the emphasis on engagement?
For one, companies are working harder than ever to attract the best of the best talent. Employees have come to expect certain perks, leaving companies with a need to get creative in terms of how they sell potential talent on their brand. Not to mention, engagement has direct connections with bottom line profits.
To further validate the importance of employee engagement, I've combined some interesting research with a roundup of companies that are nailing the concept of culture to help inspire your company's efforts.
Why Employee Engagement Matters
Before we go through examples of companies that get engagement right, let's quickly look at some of the research behind why engagement matters:
10 Businesses With Enviable Company Cultures
I've been very fortunate to have had an opportunity to speak with leaders from some of the greatest companies in the world for Officevibe's CultureTalks series.
One of my favorite questions to ask is how they approach creating an environment of engagement at their company. And the one thing I've noticed is that there seems to be a few common themes across all of these companies -- I hear words like autonomy, transparency, and trust over and over again.
I don't think this is just a coincidence.
You see, these companies just get it. If you want employees that are productive and engaged, you have to treat them right, and you have to help them grow. There are many companies that do employee engagement right. And while we've all read about Zappos and Google, I'd like to focus on a few that are doing incredible things that you don't hear about as often.
1) Morning Star's Self-Management

Not every great example of a company culture is a tech startup.
Morning Star is the world's leading tomato processor. Morning Star's goal is to make all of its employees "self-managing professionals, initiating communications and the coordination of their activities with fellow colleagues, customers, suppliers, and fellow industry participants."
It might seem like a radical idea to have no managers giving anyone direction, but Morning Star employees are so focused on the company's mission that they all know what their orders are. The company's goal is to "produce tomato products and services which consistently achieve the quality and service expectations of our customers," and each employee is responsible for creating a personal mission statement that outlines how he or she will contribute to that goal.
2) NextJump's Culture Of Wellness
NextJump serves as a great example of a corporate wellness program that worked.
At its core, NextJump helps other companies offer perks and benefits to their employees. As a benefit for its own team, NextJump invested a lot of money into gyms and wellness initiatives, however, they found that no one was really using them. Aware of the importance of such initiatives, the company decided to gamify its wellness offerings by turning it into a weekly competition with $1,000 as the prize for whoever saw the most success.
Their CEO Charlie Kim spoke about it at the GSummit a few years ago:
3) Campbell's Turnaround
Campbell's Soup is a great example of a company that leveraged employee engagement to turnaround declining sales.
When CEO Doug Conant joined the company back in 2000, it had lost 54% of its market value, and employee engagement was at an all time low. In fact, at the time, it was the lowest for any Fortune 500 company ever polled.
He's quoted as saying, "To win in the marketplace ... you must first win in the workplace. I'm obsessed with keeping employee engagement front and center." And after a decade of focusing on employee engagement, Campbell's stock price rose by 30%.
For more on Campbell's Soups' story, check out its feature in Julie Gebauer and Don Lowman's book, Closing the Engagement Gap: How Great Companies Unlock Employee Potential for Superior Results.
4) Shopify's Peer Recognition
Employee engagement, productivity, and customer service are about 14% better than in organizations where recognition occurs than in organizations where it does not, according to research by Deloitte. The research goes on to explain that recognition from peers is much more valuable than recognition from senior leadership.
My favorite example of this comes from Shopify -- a Canadian ecommerce platform that developed an internal tool called UNICORN. Not only does it use this for employee praise, but it also use the peer recognition to determine bonuses.
"The UNICORN system is now capable of tracking every aspect of a typical performance review. Managers (or wizards) can communicate with their direct reports (apprentices) prior to the meeting, fill in goals (or quests) and incorporate other information that will be used in a more formal review," explains Shawn Graham in an article from FastCompany detailing the tool.
Pretty impressive, right?
5) Moz's Core Values

Moz is a great example of a company that lives its core values and exercises radical transparency. Founder Rand Fishkin is incredibly open and transparent, to the point where he even felt comfortable being public about his battle with depression.
Not to mention, the company's core values (TAGFEE) have helped guide it to becoming an authority in SEO -- and one of the most trusted brands online.
6) Telus' Employee Trust

With over 40,000 employees, Telus is one of the biggest telecommunication companies in the world. And while I first thought that it would be an incredibly corporate environment with a bad culture, but I was wrong.
I had the opportunity to interview Telus' Chief Envisionist Dan Pontefract, and this was what he said about how they trust and empower employees to make decisions:
"We're not interested in call handle times. If it takes a long time to handle a problem our people are empowered to do so. And they're empowered to fix it in the right way where they might actually have to do something that they haven't done before, and that's okay because we trust our people to do what's right, and that starts with putting our customers first."
7) Treehouse's Four-Day Workweek

Treehouse is a website where anyone can learn to code (I'm a student), and they have such an incredible culture. The company has a flat hierarchy, and they only work four days a week.
When I interviewed CEO Ryan Carson, I made it a point to inquire about how the flat hierarchy and four-day workweek influenced the company's retention.
"When you work a four day week, you don't have a boss, you get paid really well, and you get medical and dental benefits, I mean, it's just like gosh, where else can you go?"
Not surprisingly, when you treat employees with respect and promote a healthy work-life balance, employee retention is high.
8) Atlassian's Focus On Customers
Atlassian is a software company that makes products like JIRA and HipChat. The company is known for its transparent approach, collaborative environment, and focus on customers. Dan Pink wrote about the company in his book Drive and spoke about its "Ship It" day in his famous TED talk The Puzzle of Motivation.
The company's "values page" on its website serves as great inspiration for any business to model itself after. With values like "open company, no bullshit" and "don't #@!% the customer," you can tell that Atlassian has fun and respects its employees.
9) Buffer's Radical Transparency

Buffer is redefining what it means to be a transparent company. It publishes everything -- revenues, salaries, how your money is being spent (down to the cent), etc. Buffer even uses Gmail filters internally to make sure everyone receives every email, without overstuffing their inbox.
The company even has an entire section on its blog called "Open," which contains posts about its culture and the team's journey to being more productive and happy. It shares this with everyone in the hopes of becoming more authentic.
In the words of CEO Joel Gascoigne, "Transparency breeds trust, and trust is the foundation of great teamwork."
10) Wix's Autonomy

Wix is a website creation platform that makes it easy for anyone that doesn't know how to code to set up an online presence. The company is headquartered in Israel -- which is often referred to as Startup Nation -- and is known for its entrepreneurial spirit.
When I spoke to Wix's director of communications, Eric, he told me that during the onboarding process they make it a point to make everyone (no matter what department you're in) learn more about the product. This is important because it gets everyone deeply immersed in the company to ensure that all employees can talk intelligently about the product.
What are some other examples of great company cultures? Let us know your thoughts in the comments section below.